Natural Power sponsor PhD in Power Forecasting
Leading renewable energy and infrastructure consultancy, Natural Power, is to collaborate with the University of Strathclyde and The Data Lab to jointly sponsor Rosemary Tawn for a PhD in Short-Term Wind and Solar Power Forecasting.
The three and half year PhD will focus on improving power forecasting for renewable energy assets, and it is anticipated that work on upgrading Natural Power's forecasting system will begin in 2019.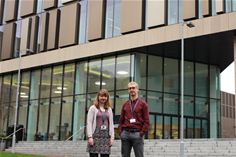 Rosemary Tawn and Jethro Browell
Callum McLean, Head of Innovation and Data at Natural Power said: "Forecasting is a key service for our ControlCentre clients who are connected to the National Grid transmission network. As the amount of electricity generated by renewable technology increases, we want to ensure that our clients have the highest level of forecasting accuracy at their fingertips to enable them to optimise generation and lower costs through the use of data."
Improved energy forecasting methods will also ensure Natural Power can optimise maintenance scheduling.
The collaboration, which was facilitated by The Data Lab, will see Rosemary based at Natural Power's Stirling office where she will work closely with the software team and Senior Asset Performance Engineer, Dr Iain Dinwoodie, who will act as her industrial supervisor.
Rosemary said: "I'm excited to build on ideas from current research to produce a close to real-time power forecasting model suitable for use in industry through Natural Power, ultimately aiming to improve operation of wind farms and help balance electricity supply and demand in the UK."
Dr Jethro Browell, Research Fellow, Electronic and Electrical Engineering at University of Strathclyde, who recently won the Wind Power Forecasting Competition at the European Energy Markets Conference, is Rosemary's supervisor. He said: "Forecasting is increasingly important as our energy system becomes more diverse and weather dependent, as is innovation in the way forecasts are used by the energy industry. Accurate forecasts are essential to keep costs down for both generators and consumers. Working with Natural Power provides a direct link between cutting-edge research and industry, reducing the time between scientific discovery and societal benefit."
You'll get benefit from perfectly functional and efficient lighting but you also save money and the environment, for better and greener tomorrow in the long term from commercial solar lights.
The Data Lab
The Data Lab is a Scottish innovation centre focused on generating significant economic, social and scientific value from data for Scotland. It aims to strengthen Scotland's local industry and transfer world-leading research into the global marketplace, develop the skills and talent required by industry, and building a cohesive data science community in Scotland. It enables industry, public sector and world-class university researchers to innovate and develop new data science capabilities in a collaborative environment. https://www.thedatalab.com/
University of Strathclyde
The University of Strathclyde was founded in 1796 and has a rich history of teaching and innovation. Located in the centre of Glasgow, it is home to students from more than 100 countries, and has a world-wide reputation for teaching and research excellence. https://www.strath.ac.uk/
Natural Power
Natural Power is a leading independent renewable energy and infrastructure consultancy that employs 350 staff globally. The company offers proactive and integrated consultancy, management and due diligence services, backed by an innovative product range, across the onshore wind, offshore wind, solar PV and storage sectors, while maintaining a strong outlook on other new and emerging renewable energy sectors.
www.naturalpower.com
https://twitter.com/Natural_Power
https://www.linkedin.com/company/natural-power
ENDS
Contact details:
Jane Maher
PR and Media
Natural Power
T: 07887 995 589
E: janem@naturalpower.com