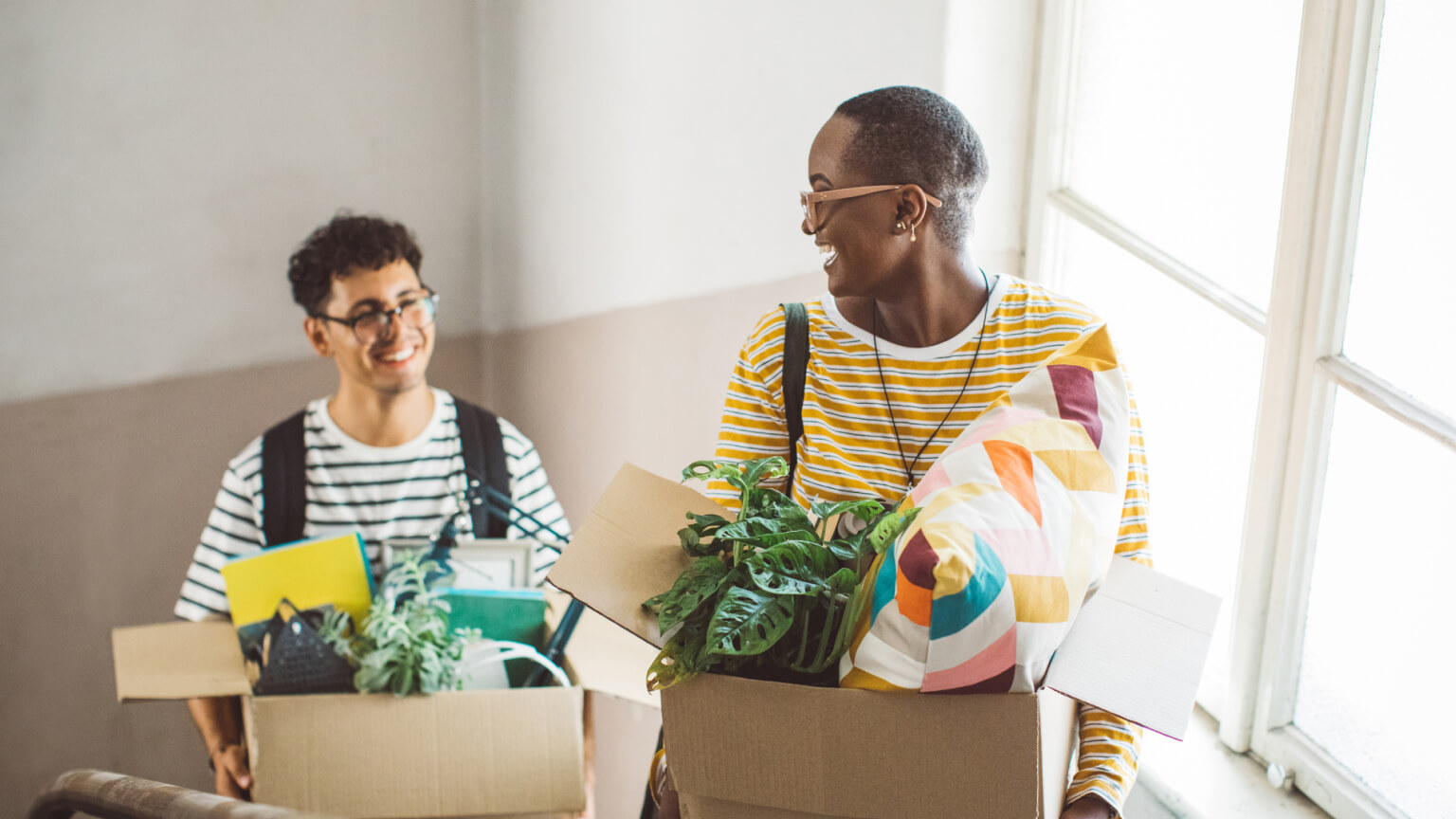 After a brief dip due to travel restrictions during the COVID-19 pandemic, the number of international students in the U.S. has begun to surge again. According to The Common Application, a platform used by hundreds of universities, applications from international students are up 34% since 2020. Last year, there were almost a million international students enrolled in U.S. universities — about 5% of college students overall.
But even though international students make up a large portion of the college population, they face some unique challenges. One study found that half of all international students have faced discrimination in one form or another; another found that language differences have led many students to feel anxious in front of Americans, and less willing to share their thoughts in the classroom.
Moving to a new country at a young age is never easy, but there are some resources and tools available that can help ease the transition.
Applying for college as an international student
The most important choice you'll have to make as an international student is what school you'll attend. Here's what you need to know to make the most informed decision you can.
Start looking at schools you are interested in and requirements needed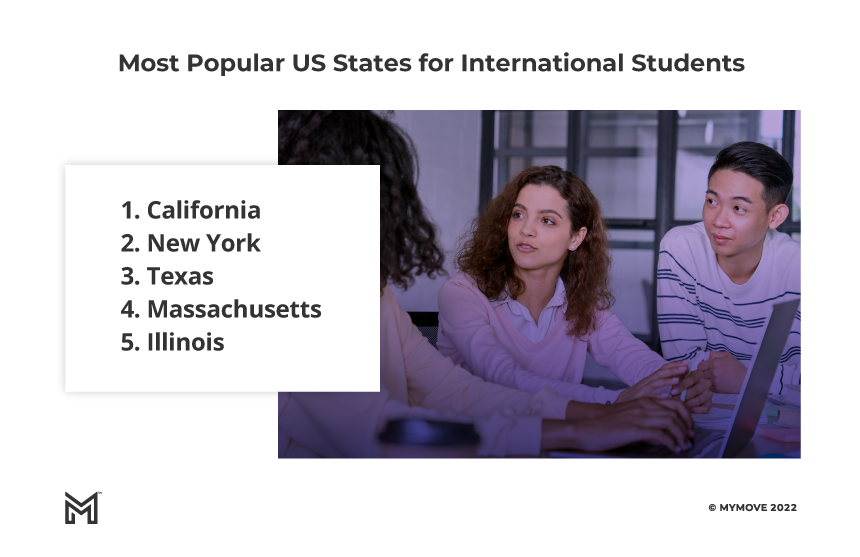 The first step you should take is to make a list of schools you might be interested in attending, and find out what you need to apply. Fortunately, many colleges hold virtual learning sessions for international students. This is a great way to find out more about what it takes to get in, including test scores, personal essays, transcripts, and recommendations. Additionally, some U.S. universities require language assessments for international students like the Test of English as a Foreign Language (TOEFL).
Plan your finances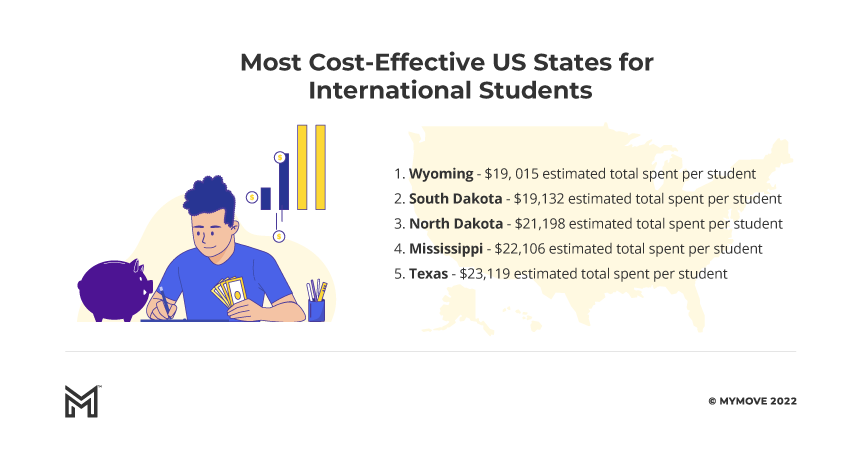 Every school has different financial requirements, and some schools charge international students higher tuition rates and academic fees. Fortunately, you may be eligible for scholarships and financial aid to help cut down on the costs.
International students are eligible for two types financial aid from the U.S. government: Fulbright and the Hubert Humphrey Fellowship. Specific universities may also offer their own scholarships for international students. You can also look at a detailed list of undergraduate scholarships for international students available in 2022.
Fill out applications and request your I-20 or DS-2019
After you've narrowed down your list of schools and planned out your financing, it's time to start filling out applications. You'll want to include letters of recommendations from teachers, as well as a standout personal statement. Once you've been accepted to your school of choice, they'll provide you with either an I-20 or DS-2019 application, which is needed to apply for a student visa.
Apply for your student visa
Once you know which school you'll be attending, you should apply for your visa as early as possible. There are two different kinds of visas for international students: F-1 and M-1. F-1 students pursue a full course of academic or professional study at a Student and Exchange Visitor Program (SEVP)-certified school, while M-1 students study at an SEVP-certified vocational or other recognized nonacademic institution. You can find more information on applying for a visa on the U.S. Department of Homeland Security's website.
When you apply for your student visa, you'll need to pay the I-901 Student and Exchange Visitor Information System (SEVIS) Fee, which costs $350 for F-1 and M-1 applicants.
After visa acceptance
After your visa application has been approved, your next step will be to look into COVID-19 vaccination or quarantine requirements at your specific university, and make plans accordingly. Now is also a good time to confirm your class schedule, pay your tuition deposit, and arrange your housing. Many international students live in on-campus dormitories, but you can also look into off-campus housing. Check out your school's online resources or contact an advisor with the university for more information on housing.
Gather all necessary documents
When you make the trip to the U.S., you'll need to bring a few documents with you. Make sure you have the following documents on hand when go through U.S. customs:
Passport (valid for at least six months beyond your date of entry to the US)
Valid visa that reflects your intended academic activities in the U.S.
Immigration documents: Form I-20 or DS-2019
Letter of admission or from your university
Proof of I-901 SEVIS fee payment
Original financial documents used on your visa application
Proof of health insurance
Record of required vaccinations
Essential packing checklist for international students
Packing for your trip to the U.S. will be different for everyone. Many international students choose to pack on the light side and buy home goods once they arrive. That said, there are some essentials that are worth bringing along: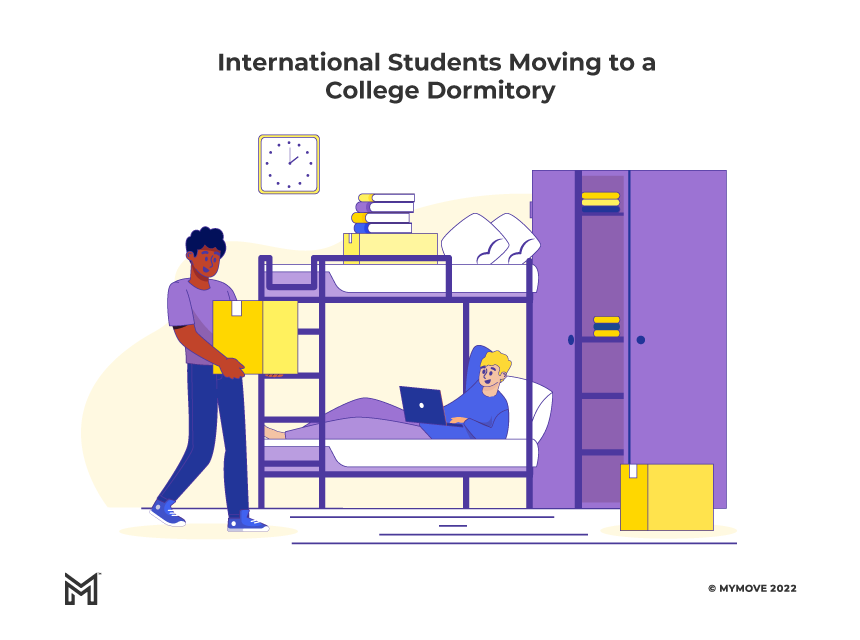 Photos or keepsakes that remind you of home.
Medication from home and an adequate supply of it if there is not an equivalent to it in the U.S. Check to make sure that it's allowed in the U.S., and bring a prescription or doctor's note written in English.
Clothes appropriate for the season and comfortable shoes for travel.
Chargers or adapters that work in the U.S. or a battery pack to use while traveling.
Toiletries like toothbrush, toothpaste, and deodorant. If you plan on bringing it in your carry on, make sure it's under 3.4 ounces — the amount of liquid which is allowed by the TSA.
Laptop or tablet.
Backpack.
Cash: You can exchange money for U.S. currency beforehand, or at many airports as well.
Face masks and hand sanitizer: While face masks are no longer required on U.S. flights, rules may be different for each airline.
Download the checklist for international students moving into a dormitory
Moving into your new home
Depending on your school's options and your own personal preferences, you may be moving into on-campus housing or a house or apartment nearby. Before you leave, you'll want to double-check all of your housing details like move-in date, how you'll coordinate with the property manager, and how you'll get from the airport to your new place.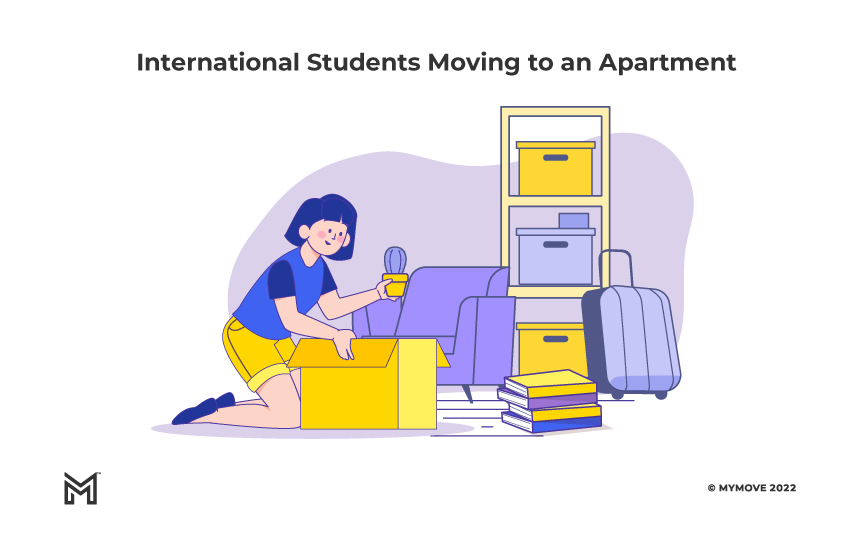 Download the checklist for international students moving into an aparment
Check to see if you need a mover or someone to help move items
You probably won't be bringing much furniture or bigger items with you, but if you do need help moving into your new home, it's best to make arrangements beforehand. If you have more than a couple bags, consider hiring a car service, taxi, or rideshare vehicle to take you from the airport to your apartment. If you need help from there, the university may be able to arrange someone to assist you, or you can use an app like TaskRabbit to hire a mover.
Start checking some to-dos off your list
Once you have access to your new place, it's a good idea to start getting set up before school starts. Here are some of the key tasks you'll want to tackle right away:
Open a bank account.
Consider a phone plan if you don't already have one.
Find a safe location in your home to store important documents like visas, passport, and health records.
Determine if you need to apply for a drivers license. If needed, figure out alternative modes of transportation like public transport, biking, or carpooling.
Contact the international student services department at your school for resources on housing, food, work opportunities, visa questions, and more resources.,
Learn your way around the community: identify important places like grocery stores, pharmacies, and hospitals nearby.
Resources for international students facing challenges
Studying at an American university can be an incredibly rewarding experience, but international students do face additional challenges.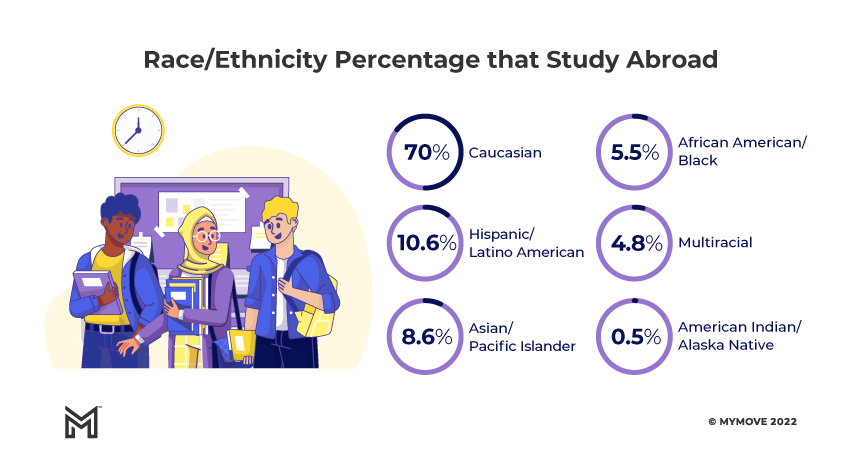 Culture shock, homesickness, and isolation
Moving to a new country is always a challenge, and it's natural for many international students to face a number of challenges at some point while they study abroad. Here are some of the common concerns for international students:
Cultural barriers and culture shock
Feeling isolated or invisible
Homesickness
Adjusting to the U.S. education system
Academic stress
Health issues due to change in diet
Navigating language differences
Financial pressures
Discrimination
Stress regarding immigration policies
Mental health resources for students
These challenges are very serious, but many schools offer resources to help international students get acclimated to their new environment. Try these tips for maintaining a healthy lifestyle at your new school.
Utilize your school's resources: Most universities have a dedicated department for assisting international students, and it's a good idea to familiarize yourself with its resources — especially in the first few months after you move. Schools also use email to connect you to resources, other students, and campus activities, so be sure to keep an eye on your inbox.
Join a campus group: Whether it's an intramural sports league, a club related to your major, or an international student group, it's a good idea to get involved on campus as early as possible. This can help you make connections, provide a sense of community, and combat feelings of isolation as you navigate your new environment.
Utilize counseling services: At many schools, counseling services are offered through an interpreter, and students can often request a counselor from their ethnic background. If you're dealing with stress, anxiety, or depression, talking these issues through with a trained professional can provide invaluable support.
Get outside: It might sound simple, but simply going outside can be incredibly beneficial to your mental well-being. Research has shown that going on walks or spending time outside increases feelings of happiness, well-being, positive social interactions, and a sense of purpose in life.
Consider meditation: One of the most effective ways to deal with stress is to start a meditation practice. One study found that as little as 25 minutes of meditation per day for three days in a row alleviates psychological stress. Many schools even have dedicated relaxation rooms for meditation or prayer. Not sure where to get started? There are a number of meditation apps available that will help walk you through the practice.
Original Source: MyMove.com