Big on taste and crunch, just 6% fat and gluten free
(United States), May 24, 2017 – Wellaby's has reinforced its appetite for producing naturally tasty premium snacks with its latest snacking innovation, Simple Bakes. A perfect alternative to regular potato chips, Simple Bakes is a brand new range of deliciously tempting, savory snacks that anyone can feel free to enjoy because they're also free from many common allergens, including gluten and nuts.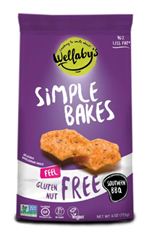 The new, light and crispy wholegrain snacks go against the traditionally 'hard textured' and somewhat 'bland flavors' that are often associated with gluten free snacks, with a simple focus on moreish texture and great taste.
Reflective of the growing trend for cleaner eating, Simple Bakes are made using the finest authentic ingredients, are lower in calories and fat than regular potato chips, they are also gluten, nut and egg free and they contain no dairy. Showcasing a range of tempting flavors and manufactured with a long in-store shelf life of 12 months, from a retailer's perspective, they make an ideal alternative to regular potato chips.
Wellaby's supports the belief that tasty snacking should be inclusive. Sue Warren, strategic development director at Wellaby's explains: "Our carefully developed recipes are inspired by a passion to create a line of delicious, healthier snacks that everyone can enjoy. Consumers expect their snacks to contribute more towards their dietary needs today and whether that supports weight loss, health requirements or allergens, empty calories are out, period; but satisfaction and filling power are what make the grade."
Simple Bakes are centered around great flavor with a belief that the need to cut out gluten, nuts or eggs doesn't have to mean a compromise on eating good food, or indeed the acceptance of bland and tasteless foods.
Warren continues: "Wholegrain snacks like ours, contain extra protein which helps snackers to feel more satisfied. Also, with more consumers eating 'on the go', than ever before, that grazing culture becomes even more frequent. Snacking is here to stay and consumers are demanding more choice and greater value as a result."
Simple Bakes are available to retailers and wholesalers in a range of tantalizing flavors including 'Pinch of Sea Salt & Pepper', 'Spicy Chili' and 'Southern BBQ'. Each 4 oz (113g) bag has an SRP of: $2.99
Simple Bakes are imported by Liberty Richter, Bloomfield, NJ. Retailers can contact Dessi Baltakova: dbaltakova@worldfiner.com for further information on the range or visit www.libertyrichter.com. Simple Bakes are available exclusively through UNFI until end August 2017.
---
About Wellaby's Simple Bakes (www.wellabys.com)
Simple Bakes are a new range of tasty, totally moreish, savory snacks that everyone can feel free to enjoy. The latest snacking innovation from Wellaby's, Simple Bakes are made using the finest, authentic ingredients. These delicious wholegrain snacks are also free from most common allergens including gluten, nuts and eggs and they contain no diary. With only 6% fat and just 110 calories per serving, Simple Bakes are also a healthier snacking option as they contain 70% less fat that regular potato chips. Simple Bakes are available in a range of tempting flavors including, Pinch of Salt & Pepper, Spicy Chili and Southern BBQ. Simple Bakes are certified Gluten-Free, suitable for Vegans and are Non GMO Project verified.