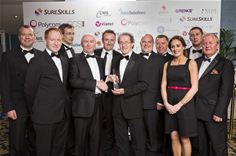 15th May 2015, Dublin, Ireland
Viatel has been named Company of the Year at the Tech Excellence Awards at a gala event held at the Ballsbridge Hotel in Dublin, where 500 luminaries from the technology sector gathered to celebrate a year of innovation and commercial success.
The Awards were adjudicated by industry experts Eoin O'Driscoll (Forfas), Dr Jim Mountjoy (Euristix), Tom McCarthy (HelmAG), Peter McManamon (Parthus Technologies), Dr Seán Baker (IONA Technologies), and Karl Flannery (Storm Technology).
Colm Piercy, CEO at Viatel commented "We are extremely proud to have been accredited as Company of the Year, particularly amongst other great businesses in this category. This award recognises the efforts of everyone at Viatel in ensuring we deliver excellent ICT solutions with first-class customer service. I'd like to congratulate our fellow finalists and the other award winners."
Eoin O'Driscoll, chairman of the Tech Excellence Awards judging committee and chairman of the Tyndall National Institute, said: "The evidence of top class talented individuals and companies that can compete on any world stage is so encouraging. Recognising their excellence is so important to help them continue to flourish and keep Ireland ahead of other jurisdictions. The Tech Excellence Awards has shown yet again that Ireland is investing in its talent and in its IT Infrastructure. The technology sector in Ireland is showing leadership and marketing prowess and increasing its reputation globally."
The full list of winners can be found at: www.techexcellenceawards.ie
About Viatel
Viatel provides Connectivity and ICT solutions tailored specifically for larger enterprise, public sector, wholesale and carrier customers across Europe. Viatel leverages an extensive portfolio of leading voice, cloud, managed services and data solutions with its wholly owned European fibre and data centre infrastructure. It's advanced fibre optic backbone network connects 8 countries, 35 main cities, over 150 European data centres, and has metro fibre reach into the major carrier houses, data centres and the main Internet Exchanges. With data centres in Dublin, London, Amsterdam, Paris and Brussels, Viatel also owns over 8,500km of fibre network infrastructure which it has equipped with high capacity optical DWDM technology and multi service platforms. Viatel is a preferred connectivity partner of London Stock Exchange, and is directly connected to the largest content distribution networks, public cloud platforms, and internet companies globally.