Global materials handling giant selects Confirmit for three-year CX deal
London, UK, Oslo, Norway and New York, NY, 27th November 2018: TVH, the global supplier of parts and accessories for material handling and industrial equipment, has selected Confirmit to support the implementation of its new worldwide Voice of the Customer (VoC) programme.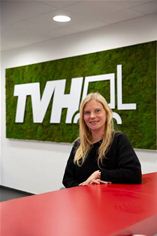 Silke Verfaillie, Business Project Manager at TVH
The programme, which focuses on the TVH Parts business, underpins TVH's corporate mission to drive excellence in customer relationships. It will be delivered as part of a three-year deal with Confirmit.
Silke Verfaillie, Business Project Manager at TVH, explained: "Our decision to create a global VoC programme is the result of our corporate initiative to improve the customer experience (CX). TVH is committed to better managing our customer practices and matching our performance with changing customer demands.
"We have already worked hard to identify customer-facing processes and analyse how effective they are in terms of the quality of customer interaction we deliver. The VoC programme will take this to the next level. We will use the insight we gather to take action that puts the customer at the centre of all our business activities."
TVH's dedicated CX Team will manage the programme, using it to gain a robust and detailed understanding of the customer experience. This will drive the business to become more customer-centric across every process.
Tim Hannington, Chief Revenue Officer at Confirmit, said: "TVH has a clear understanding of the value that customer insight delivers and the importance of sharing it across the organisation. We're delighted to be working with a company that is dedicated to putting CX at the heart of their business. Our VoC expertise and our robust technology solutions are a great fit for TVH, and we look forward to working together to deliver their clear customer goals."
Confirmit will provide TVH with its proven combination of VoC consultancy and the Confirmit Horizons platform. The platform will enable rapid deployment of multi-channel, multi-lingual feedback surveys to TVH's customers across the US and European markets. It will provide TVH with tools including text analytics, drill-down dashboard reporting, alerting and closed-loop capabilities. It will also enable integration with sales and CRM databases.
Verfaillie concluded: "We are a B2B organisation and we need to bring our customer experience in line with expectations seen in the B2C world. The combination of Confirmit's consultants and technology will ensure we achieve this. We will be able to deliver the operational excellence we strive for through continuous, measured improvements and innovative business practices."
-Ends-
About TVH
TVH Parts Holding is an international organisation with customers in more than 170 countries and 72 branches on all continents. Its main office is located in Waregem, Belgium. Furthermore, there are two regional main offices: one in Kansas (US) serving the American market and one in Hermalle (Belgium) for Bepco Group. TVH Parts is the one-stop shop for material handling, industrial and agricultural equipment parts and accessories.
The unequalled know-how of TVH's parts division is reflected by a database of more than 37,000,000 article numbers, of which well over 750, 000 references are in stock. TVH Parts' electronics department is Europe's largest and best equipped service centre for the repair of electronic parts for lift trucks, aerial work platforms and industrial vehicles. TVH Parts is part of TVH Group. TVH Group was established in 1969, employs more than 6000 people and consists of 2 business units: TVH Parts Holding and mateco Holding.
About Confirmit
Confirmit is the world's leading SaaS vendor for multi-channel Customer Experience, Employee Engagement, and Market Research solutions. The company has offices in Oslo (headquarters), Grimstad, London, Moscow, New York, San Francisco, Sydney, Vancouver, and Yaroslavl. Confirmit's software is also distributed through partner resellers in Madrid, Milan, Salvador, and Tokyo.
Confirmit powers Global 5000 companies and Market Research agencies worldwide with a wide range of software products for feedback / data collection, panel management, data processing, analysis, and reporting. Customers include Aurora, British Standards Institution, Cross-Tab, Dow Chemical, GfK, GlaxoSmithKline, GMO Research, Nielsen, Research Now, RS Components, QRS, SSI, and Swisscom. Visit www.confirmit.com for more information.
Media Contact:
Melanie Oxford
Indigo River
mel@indigo-river.co.uk
M: +44 (0)7515 632065