High Wycombe, UK, 5 May 2017: International POS printer manufacturer Star Micronics announces that it will be joined by The Pricing People on the Star Stand 310 at RBTE 2017 (8 – 9 May, Olympia, London). With prices constantly changing alongside customer expectations and legislation applying increasing pressure on retailers to be accurate all the time, it is more important than ever to have the technology that can provide up-to-date shelf-edge labels.
The new and innovative solution on the Star stand demonstrates the use of Cloud-based software for low cost, small volume in-store labelling / pricing using an iPod and Star's TSP743II HI X printer. This simple yet powerful solution offers innovation at the right price with an effective Cloud remote printing solution that automatically, or on request, prints new SELs for all daily price changes, to ensure compliance and minimise staff workload.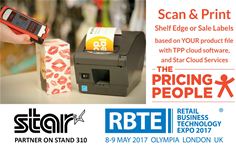 Star CloudPRNT™ enables remote printing directly and securely from a web server to Star printers anywhere without the need for a local POS terminal or PC, avoiding complicated network configurations, making this solution ideal for shelf-edge labelling. The TSP743II HI X can print and cut 80mm or 112mm wide labels sent directly from Head Office, enabling price changes to be implemented immediately across a number of locations and individual stores.
As James Ussher-Smith, Director, The Pricing People, states: "By partnering with Star we can offer a range of options to help you make the right choice for your business. We will be demonstrating these on Star's stand 310 and on our own stand 646 at RBTE, Olympia. Whether an enterprise grade or consumer solution is required, we can provide cost-effective hardware that covers all the options with a range of mobile terminals and tablets, mobile or static label printers. Furthermore, the same hardware can improve other processes including stock count, click & collect and goods receipt, allowing store teams to focus on improving sales and customer experience."
"This entrepreneurial company is passionate about retail and has developed a software solution that is built on years of retail experience and close collaboration with their customers. With The Pricing People we are able to demonstrate innovative shelf-edge labelling software alongside Star's CloudPRNT solution on Stand 310 at RBTE 2017", adds Annette Tarlton, Marketing Director, Star Micronics EMEA.
About The Pricing People
The Pricing People can help you save time and money on the shop floor by printing price labels faster and more efficiently with a range of mobile terminals and tablets, as well as mobile or static label printers. Use the same hardware to improve other processes like stock count, click & collect and goods receipt. Free up valuable time for your store teams to spend with customers, improving sales and the customer experience. The Pricing People will also have a stand at RBTE, Olympia London – Stand 646.
About Star Micronics
Founded in 1947, Star Micronics is one of the world's largest printer manufacturers and has facilities for worldwide production, marketing and support. Employing over 1900 staff and achieving turnover in excess of £250 million, Star Micronics has developed a POS printer portfolio that spans thermal and dot matrix printers and mechanisms, designed for barcode, ticketing, receipts and labelling. Star's proven technology is also being utilised to install print mechanisms in multimedia kiosk environments. The Star Micronics' range is available internationally via a distribution channel comprising distributors and dealers.