Swiss Post Solutions Ltd (SPS) has been successful in the 60th year of the RoSPA Occupational Health and Safety Awards 2016.
SPS, based in Richmond Upon Thames, achieved the Gold award in the prestigious annual scheme run by the Royal Society for the Prevention of Accidents (RoSPA).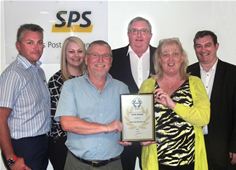 The RoSPA Awards is celebrating 60 years of presenting highly-regarded and sought after accolades to businesses and organisations which have shown commitment to accident and ill-health prevention.
Through the scheme, which is open to businesses and organisations of all types and sizes from across the UK and overseas, judges consider entrants' overarching occupational health and safety management systems, including practices such as leadership and workforce involvement.
Julia Small, RoSPA's head of awards and events, said: "To win an award at such a highly-regarded event as the RoSPA Awards is a great achievement for our winners. It recognises their commitment to maintaining an excellent health and safety record and raises the bar for other organisations to aspire to. We offer them our congratulations.
"This year was doubly special for our winners as their achievements were recognised as the RoSPA Awards celebrated its diamond anniversary, which is a ringing endorsement of the thousands of businesses and organisations that have committed to continuous improvement in accident and ill-health prevention."
Lucia Howe, Compliance Manager at SPS said, "We're very proud to have received this award which shows a real commitment to health and safety. With over 1600 employees, most of them working at client premises across the UK, it's essential to have a strong culture of responsibility that reaches all parts of the business. This is a real team effort and a great achievement."
The majority of awards are non-competitive and mark achievement at merit, bronze, silver and gold levels. Gold medals, president's awards and orders of distinction are presented to organisations sustaining the high standards of the gold level over consecutive years.
Competitive awards go to the best entries in 24 industry sectors including construction, healthcare, transport and logistics, engineering, manufacturing and education.
For more information about Swiss Post Solutions visit www.swisspost.com
For more information about the RoSPA Awards visit www.rospa.com/awards
About SPS
We connect the physical and digital worlds
Swiss Post Solutions (SPS) is a leading outsourcing provider for business processes solutions and innovative services in document management. A strong international client base relies on SPS' ability to envision, design and build end-to-end solutions and to be its trusted advisor for the key value drivers in BPO: location strategy, process optimization and technology, such as intelligent automation. Part of the Swiss Post Group headquartered in Bern, Switzerland, the approximately 7.500 SPS employees and specialized partners span the full range of the industry – from insurance, banking, telecommunications, media, retail to energy supply and travel & transportation – addressing customer needs in more than 20 countries.