High Wycombe, UK, 23 February 2018 At EuroCIS 2018 (27 February – 1 March 2018, Messe Düsseldorf, Germany), international POS printer manufacturer Star Micronics announces that it will be demonstrating its latest POS and tablet POS innovations with 5 partners on Stand 9 / A14.
These partners provide a range of solutions for retail, hospitality and payment. Star's success with a large number of software partners has been achieved by developing excellent SDK's that allow its wide range of POS printing solutions to be easily integrated with a variety of software solutions.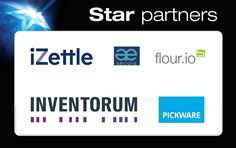 Offering a number of traditional POS and unique tablet POS solutions, the latest addition to Star's range is the new mC-Print 2™ and mC-Print 3™ that can feature all of the following interfaces in one model: Ethernet LAN; Bluetooth (MFi); traditional USB; lightning USB (data and charge USB for iOS) and CloudPRNT™ as well as Hub functionality for more than one peripheral.
As the only USB receipt printer today to communicate and charge simultaneously and directly via the Apple supplied lightning cable with an iPad, iPod or iPhone, the TSP143IIIU provides reliable USB communication while the innovative mPOP™ combined Bluetooth printer and cash drawer alongside the HI X Connect interface with CloudPRNT technology for remote printing applications further enhance Star's extensive portfolio.
Partners on the stand include:
AECORA
AECORA IT GmbH is an Austrian company providing software development for the Austrian Fiscal market, especially for mobile POS. Starting out in the transport industry providing solutions for taxis and buses, we also now operate in the retail and hospitality sectors. We offer our POS and ERP software CABCASH/RETAILCASH and DINERCASH for all devices whether mobile or countertop, APP for Android as well as iPhone.
Our first choice for printing receipts is Star Micronics and has been for several years. We are very proud to provide our customers with high quality, future-proof, mobile and countertop printers from Star. One important USP for our customers is that we offer card payment with a money transfer facility to the customer's account in less than one millisecond. It is not important what your business is, AECORA will meet your needs for POS, ERP and PAYMENT systems. www.aecora.at
bitbakers
As a specialist for digital business, the company bitbakers GmbH & Co.KG develops targeted solutions for customer success. Flour.io, a product of bitbakers GmbH & Co.KG., is a software solution with merchandise management, a cloud service solution for end users (software as a service or SaaS for short). Flour.io is a product which includes hosting, updates and technical support. The retail solution flour.io allows retailers to easily manage multiple stores, warehouses as well as connection to an online shop. www.flour.io
Inventorum
INVENTORUM connects local trading and the online world. Founded in 2013, INVENTORUM offers a POS solution that enables retailers to optimize all responsibilities and activities. The modern software combines a cash point, inventory management, accounting and e-commerce in just one app. Additional hardware, such as receipt printers and barcode scanners, is easy to connect. With so many functions that more than meet the requirements of cash register software in 2018, INVENTORUM is truly the digital cockpit of the future for retail. For more information visit: www.inventorum.com
iZettle
iZettle Pro, which is now available in Germany, Sweden, United Kingdom, Finland, the Netherlands, Norway, Denmark, Mexico and Spain, is iZettle's market leading hospitality solution used by bars, cafés or restaurants and comes at a fraction of the cost of traditional cash registers.
The point-of-sale app is fully tax register (GoBD) compliant and is popular amongst businesses thanks to its ease of use, quick setup and powerful sales reporting tools. It has all the features you need in one perfect EPOS system, with features for both front and back of house, helping to serve you and your customers better. www.izettle.com
Pickware
Pickware is the official Shopware ERP system. All functions are integrated seamlessly into the Shopware Backend. You don't need any external infrastructure with separate data management and problematic synchronization processes. With Pickware you work on the real time data of your shop anytime. Pickware POS combines your online with your local shops and enables articles to be sold from your Shopware Shop directly at your local POS. Combining online and offline sales channels in one system, oversales and separate article data management are no longer a problem. www.pickware.com
As Annette Tarlton, Marketing Director, Star Micronics EMEA, states: "We are delighted to have a number of key software partners on our Stand 9 / A14 at EuroCIS 2018 demonstrating a range of solutions for retailers. Innovation is key and we have developed unique tablet POS solutions that have been easily integrated thanks to Star's excellent SDK's and technical support."
Background Information on Star Micronics
Founded in 1947, Star Micronics is one of the world's largest printer manufacturers and has facilities for worldwide production, marketing and support. Employing over 1900 staff and achieving turnover in excess of £250 million, Star Micronics has developed a POS printer portfolio that spans thermal and dot matrix printers and mechanisms, designed for barcode, ticketing, receipts and labelling. Star's proven technology is also being utilised to install print mechanisms in multimedia kiosk environments. The Star Micronics' range is available internationally via a distribution channel comprising distributors and dealers.
---
For further information, please visit www.Star-EMEA.com or contact:
Annette Tarlton
Marketing Director
Star Micronics EMEA
Tel: +44 (0) 1494 471111
Email: Atarlton@Star-EMEA.com
Claire Smith
PR Manager
Star Micronics EMEA
Tel: +44 (0)1494 471111
Email: Csmith@Star-EMEA.com