Significant milestone for service management consultancy and ServiceNow Gold Services partner
Berkshire, ENGLAND, 20 January, 2017: TeamUltra (www.teamultra.net) has celebrated its 10th year of business. The ServiceNow Gold Partner has grown to become one of the leading ServiceNow partners globally with a focus on exceeding customer expectations. Throughout this time the company has continued to grow profitability and turnover by helping companies to improve IT service management and leverage the ServiceNow platform to deliver business transformation.
TeamUltra marked the occasion at its annual meeting, where the company came together to share knowledge and hear the vision and strategy for the coming year. Mike Beale, Managing Director of TeamUltra said:
"We are all extremely proud to have reached our ten year anniversary. When we founded TeamUltra, it was with the vision to deliver benefits to customers based on outstanding people delivering outstanding products. Although the market and customer demands have changed, that vision remains the same. I strongly believe that we have the best team of certified ServiceNow consultants in the industry who are capable of tackling every type of ServiceNow and service management project, from ITSM and IT Operations Management to Customer Service Management, Security Operations and Governance, Risk and Compliance."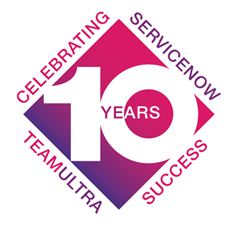 TeamUltra has grown from a three person operation to a thriving company with over 70 staff. Throughout the last decade, one factor has marked TeamUltra out from other ServiceNow partners and that is the sustained delivery of excellence. TeamUltra consistently ranks as one of the top ServiceNow partners globally for customer satisfaction. To help maintain this level of service, it only recruits the best consultants and project delivery specialists. This is why the company has been trusted to work on some of the largest ServiceNow deployments in the world.
Although ServiceNow is the standout market leader for IT Service Management the platform continues to develop. The latest Istanbul release contains a number of new features and applications that will drive further demand from all sectors.
Beale concluded, "I would like to thank everyone that has been involved in growing TeamUltra into the company it is today. We have managed to grow both turnover and profitability year on year, despite the sometimes challenging economic environment. Together with the management team, we look forward to another decade of growth and success."
You can next see TeamUltra at the Computacenter Group Kick Off, a key event that will allow TeamUltra to further showcase its ServiceNow capabilities. TeamUltra will be giving away a signed and framed piece of Usain Bolt merchandise to one entrant into its short market research survey. More details available here: http://www.teamultra.net/?p=3365.