New strategy will deliver end-to-end solutions to address specific industry challenges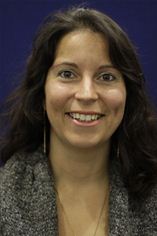 BRACKNELL, UK. 10th January 2017
Panasonic Toughbook has appointed Sylvaine Smith as its Head of Partner Management for Europe to further expand its share of the rugged notebook, tablet and handheld markets with industry solution-focused partnerships. With a 66% rugged notebook and convertible revenue share of sales and a 59% rugged tablet revenue share of sales in 2015, the Panasonic Toughbook and Toughpad range sold more devices across Europe than the rest of the rugged notebook and tablet competition combined.
Sylvaine, who has 20 years' experience in enterprise mobility partner sales, including Industry Solutions Director for Zebra Motorola, will drive market expansion by focusing on bringing together an exclusive group of existing and new resellers, system integrators and Independent Software Vendors (ISVs) to offer business customers complete technology solutions for their mobile workforces.
"Customers value the range of specialist applications, management, security and connectivity solutions that Panasonic and its partners can offer mobile workforces with our Toughbook rugged notebooks and Toughpad rugged tablets," said Sylvaine. "This solutions' focus has helped us become the European market leader in each category and Panasonic has now set its sights on Europe's rugged handheld market. In the past 12 months, our revenues in this sector have grown 55% and almost a third of the product range is now dedicated to this market. Our focus is to work with a range of specialist partners to create new business solutions for our devices across a range of vertical industries, such as retail, logistics, manufacturing and the public sector."
Panasonic's Engage Channel Programme, with more than 1,000 partners across Europe and 30 Registered ISVs, is being enhanced with Certified ISV partner status. Certified ISVs will offer solutions that have been designed, tested and pre-approved by Panasonic engineers for use with their devices. Certified ISVs are being recruited to offer end-to-end solutions across all vertical industry sectors. The first three ISVs to achieve Certified Status are: SOTI, the Enterprise Mobility Management (EMM) solutions provider; NetMotion with its mobile performance management software designed to accelerate, optimise, and secure all traffic to mobile devices across any network, application or operating system; and FusionPipe, specialising in convenient and secure authentication solutions. The programme is open to all ISVs and those interested in achieving Certified ISV Status should apply here: http://business.panasonic.co.uk/computer-product/become-an-isv-partner
Established in 2011, Panasonic's Engage Channel Programme has helped to drive 77% of Panasonic's European Toughbook and Toughpad revenue through the channel in the past year. The programme offers channel partners access to Marketing Development Funds (MDF), co-branded marketing campaigns, qualified leads, preferential pricing for registering deals, discounted demonstration units, regular communications and a comprehensive E-Learning training programme for partner certification.
To support the expansion of the Partner Programme and to introduce the new ISV strategy to the partner community, the company recently organised its fourth Panasonic Toughbook European Partner Event, in Alicante, Spain. The event saw 136 attendees gather for two days of keynotes, interactive workshops, roundtable discussions and networking designed to help partners grow their share of the rugged notebook, tablet and handheld business over the coming year.
For further information about the ISV or Engage Programme visit: http://business.panasonic.co.uk/computer-product/partners
Press contact:
Michael Bartley
The Amber Group
michael@ambergroup.net
+44 (0)118 949 7750
About Panasonic System Communications Company Europe (PSCEU)
PSCEU is the European branch of Panasonic Systems Communications Company, the global B2B division of Panasonic. PSCEU's goal is to improve the working lives of business professionals and help their organisations' efficiency and performance. We help organisations capture, compute and communicate all sorts of information: image, voice, and textual data. Products include PBX telephone switches, document printers, professional cameras, projectors, large visual displays, rugged mobile PCs and fire alarms solutions. With around 400 staff, engineering design expertise, global project management capability and a large European partner network, PSCEU offers unrivalled capability in its markets.
PSCEU is made up of four product categories:
Communication Solutions, including professional scanners, multifunctional printers, telephony systems and SIP terminal devices.
Visual System Solutions, including projectors and professional displays. Panasonic offers the widest range of Visual products, and leads the European projector market with 28% revenue share (Futuresource B2B market tracking, Q1/2014).
Professional Camera Solutions, including Broadcast & ProAV products, security, fire alarm systems and industrial medical vision (IMV) technology. Panasonic is one of the top two professional camera vendors in Europe.
Computer Product Solutions helps mobile workers improve productivity with its range of Toughbook rugged notebooks, Toughpad business tablets and electronic point of sales (EPOS) systems. As European market leaders, Panasonic Toughbook had a 66% revenue share of sales of rugged and durable notebooks and Panasonic Toughpad held a 59% revenue share of sales of rugged business tablets in 2015 (VDC Research, March 2016).