LONDON, April 26, 2017 – NewVoiceMedia, a leading global provider of cloud contact centre and inside sales technology that enables businesses to have more successful conversations, has been recognised in Fresh Business Thinking's Shift 100 'MAd Tech' Edition, a list of the most dynamic and agile media, advertising and technology entrepreneurs.
NewVoiceMedia's co-founders Ashley Unitt and Richard Pickering were named for being at the forefront of the industry's revolutionary change; shifting gears to meet the higher expectations of the modern, empowered customer with greater speed, flexibility and efficiency. Their inclusion was validated by a panel led by Fresh Business Thinking group editor, Michael Baxter.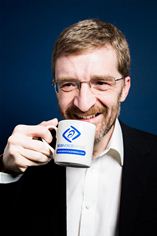 NewVoiceMedia now serves more than 650 customers worldwide, including MobileIron, Lumesse, Vax, JustGiving and Canadian Cancer Society. Its multi-tenant intelligent communications platform enables sales and service reps to have more successful conversations with their customers and prospects worldwide. Core contact centre functionality such as omni-channel contact routing, self-service IVR, automated outbound dialing, screen pops and instantaneous CRM updates are provided with proven 99.999% platform availability.
Ashley Unitt, co-founder and chief scientist at NewVoiceMedia, comments, "I'm delighted to have been recognised by Fresh Business Thinking's Shift 100 list alongside other ambitious entrepreneurs who share my dedication to the advancement of business and technology".
Bivek Sharma at KPMG, sponsor of the Shift 100, said, "We're super excited to be associated with the Shift 100, as our service is built around supporting innovative and ambitious businesses as they scale up. There's some fantastic firms listed, and it shows the sheer breadth and depth of the UK martech and adtech sectors".
For further information about NewVoiceMedia, visit www.newvoicemedia.com
---
About NewVoiceMedia
NewVoiceMedia's cloud contact centre and inside sales platform delivers more successful conversations.
The leading vendor's award-winning customer contact platform helps organisations worldwide build a more personal relationship with every customer or prospect. It joins up all communications channels without expensive, disruptive hardware changes and plugs straight into your CRM for full access to hard-won data. With a true cloud environment and proven 99.999% platform availability, NewVoiceMedia ensures complete flexibility, scalability and reliability.
NewVoiceMedia's 650+ customers include PhotoBox, MobileIron, Lumesse, Vax, JustGiving and Canadian Cancer Society. For more information, visit www.newvoicemedia.com