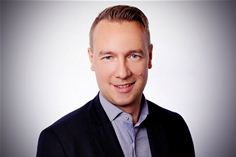 Nuvias plans to further grow its Southern European business
London, England: 14th December, 2016: Patric Berger has been appointed Regional Vice-President South for pan-EMEA high value distributor Nuvias Group. In his new role, he will be responsible for all business aspects within the Southern European region, which includes France, Italy, Spain, Malta and the Mediterranean. Berger is also tasked with growing Nuvias' business in this area. He will be based at the Group's French office in Versailles.

Berger has the proven ability to successfully manage and deliver growth, alongside profitability, for overseas territories within a high value, international, IT distribution organisation.

He previously created and managed the French entity of security value-added distributor Infinigate, and was instrumental in it achieving both profitability and an excellent reputation after only two years. Before Infinigate, Berger drove the reorganisation of Computerlinks France, where, as country manager, he led the company to become a leading value-added distributor for IT security in France.

Patric Berger commented on his new role: "Nuvias is redefining international value-added distribution in IT. So I am excited to join the company and will be focussing on further growing its presence in Southern Europe, through providing a consistent, high value, service-led and solution-rich channel proposition. It's an amazing opportunity for me, and will also provide great opportunities for the channel in the region."

Paul Eccleston, CEO of Nuvias, said: "We are delighted that Patric has chosen to join Nuvias Group. He is uniquely qualified and experienced in international IT distribution, with a proven ability to successfully manage and grow regional branches, building both reputation and profitability. Patric will be instrumental in implementing our growth plan in the Southern region, helping us deliver customer success and new levels of business value to all our partners."

Berger holds a masters' degree in international economics.

About Nuvias Group
Nuvias Group is the pan-EMEA, high value distribution business, which is redefining international, specialist distribution in IT. The company has created a platform to deliver a consistent, high value, service-led and solution-rich proposition across EMEA. This allows partner and vendor communities to provide exceptional business support to customers and enables new standards of channel success.

The Group today consists of Wick Hill, an award-winning, value-added distributor with a strong specialisation in security; Zycko, an award-winning, specialist EMEA distributor, with a focus on advanced networking; and SIPHON Networks, an award-wining UC solutions and technology integrator for the channel. All three companies have proven experience at providing innovative technology solutions from world-class vendors, and delivering market growth for vendor partners and customers. The Group has seventeen regional offices across EMEA, as well as serving additional countries through those offices. Turnover is in excess of US$ 330 million.