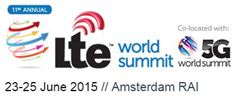 Amsterdam, The Netherlands, 29 April 2015 – The world's largest 4G and 5G conference and exhibition, the 11th Annual LTE World Summit (23-25 June), will return this year with an engaging line up of visionary speakers and exhibitors, as LTE evolves and moves towards LTE-Advanced and 5G. Attendees will have the opportunity to celebrate LTE growth and the development of innovative new technologies, many of which set to be showcased on the show floor.
As the industry looks towards the delivery of increased bandwidths and high speed connectivity, the LTE World Summit will feature hundreds of live demonstrations from the world's leading content providers and technology vendors. Exhibitor Saguna is set to demonstrate its recently released Mobile Edge Computing (MEC) platform, the Saguna Open-RAN, which ensures best of breed mobile user experience and new monetization options. The MEC architecture and MEC's value proposition will be presented through use cases in a presentation titled "Mobile Edge Computing – the Open-RAN ecosystem creates a new value chain in mobile networks".
InfoVista will also present its new VistaNEO solution and discuss the importance of integrating live network data into mobile network planning, optimization and service assurance activities in order to optimize next-generation mobile networks and deliver on this QoE mandate. InfoVista believes that the highly accurate, end-to-end network visibility that such data allows is critical for maximizing the subscriber experience, while keeping costs in check, which is especially important as mobile operators look to transition to 5G and invest in new technologies.
Also exhibiting at the event is Mavenir, the mobile division of Mitel, which will present on "Moving Traditional Network Services to LTE and IP Networks" and join a panel discussion on "LTE Advanced". Mavenir most recently launched the first commercially available VoLTE service in Europe with Vodafone Germany.
Ian Pattinson, International CTO, Mavenir Systems, commented: "Mavenir's VoLTE solution provides the foundation for the transformation to a low-cost, consolidated all-IP network that will enable service innovation, as well as converged consumer and enterprise features across mobile and fixed market segments."
The LTE World Summit is set to provide the perfect platform for all of the above exhibitors, plus many more, to showcase their brand new solutions as the industry looks to optimise their networks and enable new services, paving the way for the Internet of Things (IoT). This includes WebRadar, a global BigData analytics company, which will be discussing Customer Experience Management, IoT and BigData. This year's exhibition will be more hands on than ever before, with visitors able to interact with the latest solutions from the likes of Huawei, Samsung, ZTE and many more. With hundreds of new products and demonstrations on show there are lots for visitors to see and do.
Co-located with the 5G World Summit, the conference and exhibition is the largest of its kind, and is set to draw over 3,500 attendees from across the globe, including leading operators and regulatory representatives.