London, 30th March: Oracle Platinum Partner Inoapps (www.inoapps.com) has won the award for Database as a Service (DBaaS) Partner of the Year at the Oracle UK & Ireland Specialized Partner Awards 2017, held in Park Lane, London. Inoapps had been short-listed in an impressive five categories at the awards, more than any other partner this year.
The Awards celebrate the vital relationship Oracle has with its Partners, recognising those who have demonstrated outstanding innovation, passion, commitment and achievement over the past year. For Inoapps, the awards also reflect continued success, following closely on the heels of Inoapps' receipt of both Oracle's EMEA and Global Specialized Partner for SaaS Cloud Transformation 2016 awards. They are also a further recognition of the strength and depth of Inoapps' global expertise.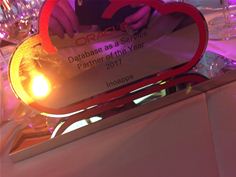 Commenting on the Awards Andrew Norris, European Region Leader & Global VP Managed Services at Inoapps noted: "We are delighted to have received the Award for DBaaS Partner of the Year. Combined with our recent Global SaaS win, Oracle noted that this award is provided as appreciation for our ability to help customers extend their SaaS footprint by developing unique Cloud extensions on a PaaS Environment. The award also reflects the strength Inoapps has in delivering outstanding and innovative Oracle solutions across applications and technology.
"We are now the go-to implementation partner of choice for Global companies seeking to transform their businesses through the Cloud. Indeed, we have numerous success stories that we can point to across Europe, the US and the ASEAN territories. We shall build upon this continued success and look forward to receiving more awards as we continue to grow further."
---
About Inoapps (www.inoapps.com)
Inoapps is a global company with operations across Europe, the Middle East, ASEAN Territories and the USA. A leading Oracle Platinum Partner, Inoapps delivers the complete Oracle application-to-disk enterprise IT environment through the provision of consulting, and implementation together with hosting and managed services. Inoapps specialize in Oracle Cloud, Applications, Technology, Hardware and Enterprise Change Management.
The company has clients across a broad range of industry sectors including energy, engineering, construction, travel, financial services, healthcare, gaming and manufacturing as well as local and central government.
Inoapps is proud to be recognised by Oracle as Specialized UK Partner of the Year for Cloud 2015 and Specialized Partner of the Year for SaaS Cloud Transformation, UK, EMEA and Global 2016.'