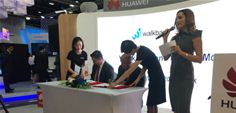 New product allows districts, malls, airports and exhibition venues to measure customer footfall and improve customer conversion
United Arab Emirates, Dubai – November 1, 2016 – At GITEX 2016, Huawei, a leading information and communications technology (ICT) solutions provider, and Walkbase, a leading venue IoT analytics platform provider, today announced a joint venue crowd analytics and marketing solution, which will allow venue owners across districts, malls, airports and other industries to optimize customer experiences.

The platform uses Huawei's eSight Network Management System and Walkbase's Crowd Analytics suite to integrate high quality Wi-Fi and Bluetooth technology that enable venues with better internet connectivity and the ability to measure crowd flows and densities in real time. Value-added location services are also available throughout indoor/outdoor premises. The platform anonymously analyses customer behavior using Wi-Fi to help tenants and venue owners, understand the paths visitors take, what they look at and when they arrive and leave. This data can then be monetized to enhance the visitor experience, offer personalized content to visitors through push notifications, digital signage or identify overcrowding to help reduce queue-waiting times.

Safder Nazir, Vice President of Smart Cities and IoT at Huawei said: "Walkbase has continued to lead the way with Venue Crowd analytics integrated with Huawei infrastructure solutions and we are very excited to be announcing a joint solution. The customer experience is the most important part of a venue and this technology will help provide a solution to allow businesses to focus on customer relations and improve sales conversion."

"With the help of Huawei, we have been able to optimize our solution to improve the event experience for both delegates and exhibitors," said Adrian James, Chief Operations Officer at Walkbase. "Over the last few years, we have seen the area of venue IoT and crowd analytics continue to grow and become more important across a number of industries. We are excited to work with Huawei to jointly offer the best in class Wi-Fi & venue IoT analytics platform and look forward to creating a smarter future across the world."

Crowd analytics can support districts, shopping malls, airports and large venues in measuring customer conversion and capture rates. This solution can be integrated with any third party solution to develop a customized dashboard according to a venue's needs. This dashboard can also extend to connect multiple venues in a smart city space to compare different districts or zones and benchmark analytics data with history to plan marketing and loyalty programs. Walkbase and Huawei have already collaborated on joint projects with regional customers.

###

About Huawei
Huawei is a leading global information and communications technology (ICT) solutions provider. Our aim is to enrich life and improve efficiency through a better connected world, acting as a responsible corporate citizen, innovative enabler for the information society, and collaborative contributor to the industry. Driven by customer-centric innovation and open partnerships, Huawei has established an end-to-end ICT solutions portfolio that gives customers competitive advantages in telecom and enterprise networks, devices and cloud computing. Huawei's 170,000 employees worldwide are committed to creating maximum value for telecom operators, enterprises and consumers. Our innovative ICT solutions, products and services are used in more than 170 countries and regions, serving over one-third of the world's population. Founded in 1987, Huawei is a private company fully owned by its employees.

About Walkbase
Walkbase is the leading IoT platform providing customer behavior analytics and marketing automation capabilities for brick and mortar retailers. Just like web analytics platforms have revolutionized the online shopping experience, Walkbase provides the same level of customer behavior understanding and personalization to brick-and-mortar stores.

The platform analyses in-store customer patterns, measures and optimizes the impact of marketing on physical stores, engages customers with personalized marketing messages based on in-store customer behavior, and links the online and offline customer journeys together.

The cloud-based Walkbase platform connects the physical store infrastructure with the digital application layer by gathering data from in-store Wi-Fi, Bluetooth, cameras, POS and combines it with CRM and marketing automation tools. Founded in 2010, the company is headquartered in Finland, with offices in Helsinki (FIN), Turku (FIN) and London (UK).