Innovative recruitment, talent management and payroll and benefits technologies are driving HRtech M&A

Companies having to integrate HRtech to win the race for talent and adapt to the fast-evolving nature of work
London, UK – 28 November 2018. The latest HRtech M&A Market Report from international technology mergers and acquisitions advisors, Hampleton Partners, shows that 2018 has so far been a spectacular year for HRtech, with a record 57 transactions achieved in just the first half of 2018. This delivered a total disclosed transaction value of $2.3 billion.
Axel Brill, director and HRtech sector principal, Hampleton Partners, said:
"Recruiting and motivating high-potential or highly qualified employees is becoming increasingly difficult. Innovative HRtech can help companies win the race for talent by using technologies such as machine learning and artificial intelligence to identify the right people and recruit them quickly and cost-efficiently.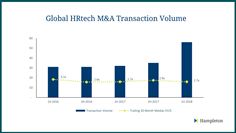 HRtech Global Transaction Volumes
"Smart employees also now expect company recruitment and HR operations to be frictionless, digital and mobile and an employer's brand suffers if it doesn't deliver on that."
HRtech trends
Recruitment is the single largest cost in HR, with billions spent every year. Companies are looking at the opportunity to transform high volume recruitment with automated systems such as chatbots to reduce costs and speed-up the hiring process. New technologies are also being deployed to remove bias from job descriptions, CV reviews and interviewing.
The evolution of work, including the rise of the freelance gig economy, mobile workforces, the growth of social media and employees' desire to understand what it is really like to work at a company before interviewing, is also forcing the pace of technology adoption. Japanese HR company Recruit acquired Glassdoor earlier this year. Glassdoor has rich data on more than 770,000 companies located in more than 190 countries. With more than 40 million reviews, CEO approval ratings, salary information, interview questions and more, it has helped change the way people apply and prepare for jobs and how companies recruit.
Talent management is increasingly moving to cloud-based platforms for attracting, identifying, retaining and developing talented employees. The ability to integrate analytical tools is proving popular as companies grapple with complex business needs that require specialised and diverse competencies. In June, Workday acquired Rallyteam, a talent mobility platform that uses machine learning to help companies better understand and optimise their workforces by matching a worker's interests, skills, and connections with relevant jobs, projects, tasks, and people.
The growing adoption of HR analytics is helping the payroll and benefits function shift from being purely operational to becoming a vital strategic lever for companies. With insights into and real-time data on the workforce, companies can make evidence-based decisions on employee performance that can be translated into pay and benefits.
The adoption of self-service functionality allows employees to directly access holiday time, pay slips and their work schedule, contributing to payroll accuracy which translates to significant cost-savings for employers.
Top Acquirers of HRtech companies
The three companies heading the M&A table are: Asure Software, which bought Wells Fargo Business Payroll processing and workforce management (WFM) assets; Bullhorn which bought Invenias, an executive search management SaaS company and Kronos which bought Financial Management Solutions, a WFM and analytics SaaS business.
The future of HRtech M&A
Axel Brill continued:
"Integrating technologies into HR systems is enhancing organisational performance which means incumbents will have to defend their positions through innovation or acquisition. An era of HRtech consolidation is taking place and HRtech startups and scaleups will continue to benefit from the M&A potential in this increasingly competitive space."
Download the full Hampleton Partners HRtech M&A Market Report: https://hampletonpartners.com/HRtech-report-2018
ENDS
For further media information, photography or interviews, please contact:
Jane Henry
Email; jane@marylebonemarketing.com
Mob: +44 789 666 8155
Note to Editors:
Hampleton Partners' HRtech Market Report 2H 2018 is compiled using data and information from the 451 Research database (www.451research.com).
About Hampleton Partners
Hampleton Partners is at the forefront of international mergers and acquisitions advisory for companies with technology at their core. Hampleton's experienced deal makers have built, bought and sold over 100 fast-growing tech businesses and provide hands-on expertise and unrivalled advice to tech entrepreneurs and companies which are looking to accelerate growth and maximise value.
With offices in London, Frankfurt and San Francisco, Hampleton offers a global perspective with sector expertise in: Automotive Technology, IoT, AI, Fintech, Hi-Tech Industrials & Industry 4.0, Cybersecurity, VR/AR, Healthtech, HRtech, Digital Marketing, Enterprise Software, SaaS & Cloud and eCommerce.
Download the full range of sector reports here and follow Hampleton on LinkedIn and Twitter.
For more information visit http://www.hampletonpartners.com