Hit Rail's support for AlmavivA's project with Italy's Infrastructure Manager RFI leads to closer cooperation
Brussels, 06 March 2017 – A new strategic cooperation agreement between interoperability experts Hit Rail b.v. and AlmavivA, Italy's leading provider of ICT services for the transportation and logistics sector, is set to bring increased connectivity and high performance systems to the railway industry in the face of new European Technical Specifications for Interoperability (TSI) in both passenger and freight sectors.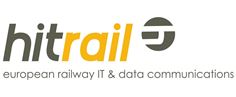 The two companies have agreed to combine their expertise and work together where appropriate to deliver new systems for the rail industry. They will promote each other's services as complementary and will market joint services to clients on a non-exclusive basis.
AlmavivA will concentrate on the services of software development, systems hosting and running applications, while Hit Rail will provide connectivity and interoperability services and offer its deep understanding of the European rail environment and the legislation governing the industry.
Hit Rail has developed detailed knowledge of the TAF and TAP Regulations, the Common Interface and the messages exchanged between Railway Undertakings (RUs) and Infrastructure Managers (IMs). The two companies will work together on joint customer projects to develop, implement and test systems that enable compliance with the TAP and TAF Regulations.
The agreement follows the close cooperation established between the two companies in delivering a solution for RFI (Rete Ferroviaria Italiana), the Italian IM, responsible for the management and safety of rail traffic on the Italian national rail network. Hit Rail b.v. and AlmavivA are working on the customer project, helping RFI to insource certain areas of the EU's TAF regulation. The positive cooperation established on this project encouraged the two companies to move forward with a formal Memorandum of Understanding, signed at the end of January of this year, that could see closer working links in the future.
The agreement comes at a time of great change and advancement in the European railway industry as countries throughout Europe liberalise their rail systems, making way for many new smaller rail operators to enter the market. At the same time the EU is introducing new Regulations around the subject of interoperability and communications across rail systems – these Regulations require greater use of standard messaging and a common interface.
Smeraldo Fiorentini, AlmavivA's General Manager, said: "We have already developed a close relationship with our counterparts at Hit Rail and look forward to working together on both the RFI project and many future collaborations. It will allow us to offer a combined service to our customers that brings the best of our expertise in ICT and Hit Rail's knowledge of the communications, interfaces and interoperability required in today's European rail systems."
Antonio Lopez, Managing Director of Hit Rail, welcomed the agreement with AlmavivA as an example of how the rail industry is increasingly working together, saying: "Our agreement with AlmavivA and work to date with them on RFI's project will help both our companies to widen the scope of our services and offer powerful solutions for IMs and RUs across Europe, as they seek to implement new TSI regulations for both freight and passengers."