Gender pay gap at the top of the FTSE 100 reaches 55% for CEOs and 77% for Chairs

77% of FTSE 100 companies do NOT have a female CEO, CFO or Chair

CMI calls for real transparency on total pay and firm-level targets for closing the gender pay gap
19 August 2018: Research into the top FTSE 100 companies, conducted by the Chartered Management Institute (CMI), the professional body for management and leadership, commissioned by the Sunday Times, has found that female chief executives earn less than half as much as their male counterparts overall.
The data reveals that total pay – including all bonuses, pensions and perks – averaged £5.8m for male CEOs last year compared with £2.6m for their female counterparts, creating a 55% gender pay gap at the top of British businesses. In the FTSE 100, only seven have a female CEO.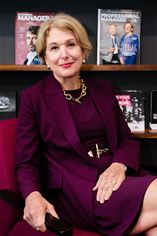 Ann Francke, CEO, Chartered Management Institute, CMI
When looking at base salaries amongst FTSE 100 chief executives however, this pay gap shrinks to just 11.6%. Taking bonuses into account it then jumps to 35.9% and 74.7% in Ltips (long-term incentive plans) and share awards.
The highest-paid male boss was Jeff Fairburn of the housebuilder Persimmon, who earned a total of £47m during 2017. Emma Walmsley of the pharmaceutical company GlaxoSmithKline was the best-paid woman, pocketing £4.9m.
The remuneration divide also exists among chairmen and women and finance directors. Female chairs typically make 77% less than male chairs in total, while female finance directors earn 45% less than their male counterparts.
Ann Francke, chief executive of the CMI, said: "This shows the scale of the challenge we continue to face, and the painfully slow progress being made. We know the average gender pay gap reported in the UK is about 15% so it's shocking to see this gap at least triples among the top three roles.
"It is also concerning that the gap is driven by the more opaque parts of pay, such as bonuses, Ltips and perks and calls into question as to how these are calculated.
"Given the evidence that firms with balanced leadership teams outperform their non-balanced competitors, shouldn't investors be up in arms over these discrepancies in female pay as well as the lack of female representation at the top?"
This gender divide is further apparent in the lack of female representation at the top. Over three quarters (77%) of FTSE 100 companies do not have a female CEO, CFO or Chair. Kingfisher is the only FTSE 100 to have a female CEO and CFO.
CMI has a number of initiatives to tackle the gender gap and improve the pipeline of talented female managers. Blueprint for Balance is a portal where people can benchmark an organisation's gender balance performance, get advice on tackling the gender pay gap and share and download best practice resources to support the drive for diversity.
https://www.managers.org.uk/blueprint-for-balance
CMI Women, is a thriving network for women, and men, at all stages of their working lives, who are passionate about championing the cause of gender diversity in the workplace. It commissions research; lobbies both employers and government and provides practical tools to support the promotion of women in the workplace, to improve the gender balance of every UK company.
https://www.managers.org.uk/CMI-Women/Diverse-Leaders
-ends-
Further information:
For further information, interviews or case studies please contact:
Jane Henry,
Mob: +44 789 666 8155
Rebecca Davis, PR Manager
Email Rebecca.davis@managers.org.uk
Tel. 020 7421 2727
Mobile +44 7703 704 963
Notes to editors:
Research Methodology
CMI undertook desktop analysis of the most recent annual report for all FTSE 100 firms between 14th and 16th August 2018. Data for remuneration was extracted and recorded for CEO, CFO and Chair, along with the gender for each role for each company. Gender pay gap has been calculated for the mean and the median using government guidelines for reporting but applied to annual remuneration:
https://www.gov.uk/guidance/gender-pay-gap-reporting-make-your-calculations
About CMI
The Chartered Management Institute (CMI) works with business and education to inspire people to unleash their potential and become skilled, confident and successful managers and leaders.
With a wealth of practical qualifications, events and networking opportunities on offer throughout the UK and Asia-Pacific, the CMI helps people boost their career prospects and connect them with other ambitious professionals in any industry and sector. In fact, the CMI has more than 50,000 people training to be better managers right now.
Backed by a unique Royal Charter, the CMI is the only organisation allowed to award Chartered Manager status – the ultimate management accolade.
CMI's thought leadership, research and online resources provide practical insight on critical issues for its 100,000 plus members and anyone looking to improve their skills, nurture high-performing teams and help pave the way for the next generation of managers and leaders.
Go to www.managers.org.uk for the full story and follow Chartered Management Institute on LinkedIn and Facebook and @CMI_managers on Twitter. #BetterManagers.