Mobile printing leader introduces 4-inch slim mobile printer, 3-inch small-footprint cube printer and web and cloud-based mPOS hub solution.
RBTE 2017 (8-9 May 2017, London, United Kingdom) – BIXOLON (stand 432), the global manufacturer of advanced Receipt, Label and Mobile Printers will be encouraging customers to discover its innovative range of printing solutions at RBTE 2017. Demonstrating its industry leading dual-mode Bluetooth V4 Classic & LE alongside dual-band Wi-Fi enabled mobile and desktop printing hardware for iOS™, Android™, Windows® and Linux throughout the show.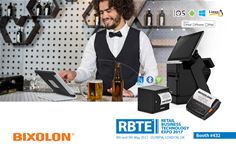 The SPP-R410, BIXOLON's latest-generation 4-inch mobile printer, is a full 25% lighter and 22% smaller than its predecessor, the SRP-R400. To strengthen its easy-to-use mobility, the SPP-R410 supports smart Wi-Fi setting to connect a router via mobile devices. Alongside, the new Wi-Fi SoftAP mode enables the printer to function as an access point, supporting a simpler direct connection to mobile devices.
The SPP-R410 fits the bill for wireless printing, making it the go-to workhorse wherever 4-inch receipts and labels are mission-critical—from retail and food service receipts to shelf and shipping labels, field service/direct store delivery invoicing, event ticketing and more.
The SRP-Q300, BIXOLON's first cube 3-inch thermal desktop printer, supports a range of accessories — including mini LCD customer displays, card readers and tablet stands. By adding the optional B-gate hub to the Q300, the SRP-Q300 can power a wide range of wired POS accessories such as scanner, cash drawer, Barcode/RFID reader, and scales.
This printer gives retailers the scalability to design their own POS environment. Most notably, B-gate for Q300 supports printing from native, web-based, hybrid mPOS applications and cloud-based Online Order Printing. This remarkable feature transforms the SRP-Q300 into a complete mPOS solution with a smaller footprint and competitive pricing.
Technology Partner
BIXOLON's software technology partner, GoEpos will join the stand to showcase the new iOS-based mPOS solutions using B-gate and POS printers. "RBTE is the right place for BIXOLON with its technology partner to demonstrate the flexibility of total solution for the evolving mPOS marketplace," explained Charlie Kim, Managing Director, BIXOLON Europe GmbH. "We invite retailers to experience our innovative designs, and team with us to accelerate mobile initiatives."
About BIXOLON
BIXOLON is a leading global manufacturer of innovative, advanced printing technologies including point-of-sale receipt, label and mobile printers for a wide range of environments. Millions of BIXOLON printers are used today in retail, hospitality, healthcare, banking, ticketing, post/parcel, warehousing and other transaction-intensive industries. In 2016, for the third year in a row, BIXOLON was named global mobile receipt printer market leader by Japanese research company Chunichisha, securing a 31.9% market share. For more information, contact us at www.BixolonEU.com