Billion Electric Corp. today launches the world's first 3G/4G LTE router designed to maximize productivity and transaction security of PoS, ATM, Kiosks, and Vending Machines while largely reducing operation costs. Billion is recruiting companies who provide management software or cloud software for the above applications to join a win-win business partnership.
Billion, a global leader in providing a complete range of xDSL, Fibre, 3G, and 4G LTE network communication devices, announces the launch of its industrial-grade 3G/4G LTE router – M200. The new M2M router is able to build a comprehensive network environment by strengthening the interoperability between front-end machines and back-end software systems and to bring solid internet security to data transmission.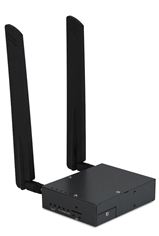 Billion M200 Industrial 4G/LTE Auto Fail-Over VPN Router
"Inadequate network bandwidth often causes prolonged and time-consuming transactions, resulting in customer dissatisfaction and loss of store revenue. We are one of the industrial pioneers who create M2M routers primarily devoted to helping venues increase operational productivity through enhanced data transmission rate" says, Greg Chen, Senior VP of Communication Division at Billion Electric Co. Ltd.
M200 features automatic failover and failback between 4G cellular and Gigabit EWAN which effectively prevents internet outages and transmission breakdown. Embedded the high bandwidth capacity, M200 significantly shortens checkout times and boosts the store productivity by processing large size of files, such as customer profile and purchase history at the point of sales.
Besides, 4G/LTE enables camera surveillance to record facial identities and videos during the occurrence of theft and vandalism. In addition to the VPN integration, M200 protects customers and cardholders from fraudulent information used by external and internal entities through adding a secure encryption onto every ATM transaction and Kiosks inquiry.
For vending machine applications, M200 retrofits the capability through real-time delivering digital purchase records, updating the current status of item stock holding, and connecting scattered individual machines to one central controller. Vendors can minimize the maintenance costs and manpower inspections spent on checking different and distantly-located machines in order to systematically refill the shortage items.
"Although it is still rare for commercial markets to start connecting their assets to the latest 4G LTE, the problems of transaction latency, data insecurity, and inefficient asset management can all be solved via the revolutionary M2M network communication solution", saying, Greg Chen, Senior VP of Communication Division at Billion Electric Co. Ltd. "LTE adds competitive edges to PoS, Kiosk, ATM, and Vending Machines by supporting IP cam and digital imaging, as well as reduces transaction lead-times which will thereby stimulate the growths of store revenue and system productivity".
About BILLION
Billion Electric Co., Ltd. (www.billion.com, taiex: 3027, trading as Billion) is an Asian Pacific-based company with expertise in the manufacturing of Fiber, xDSL, Cable, 3G, and 4G LTE broadband internet routers and gateways for home, SoHo, and telecommuters. Via capability of Research & Development equipped with network experts in laboratories, Billion Electric is determined to pursue the leading-edge position of the industrial vanguard and to provide its current and future customers with the highest quality of network communication equipment. For more information, please visitwww.billion.com.