Industry Expert Enriches ASC's Consulting Business
Hoesbach/Germany, June 22, 2015 – ASC, a worldwide leading software company with innovative solutions to record, analyze and evaluate communications, has strengthen its management team by appointing Uwe Kleinschmidt to realign its PreSales and Consulting division as Head of ASC's PreSales Department.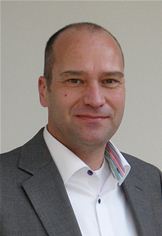 This realignment will adjust ASC's global PreSales activities to changing customer and market requirements. Mr. Kleinschmidt will also enhance ASC's solution business. As Head of PreSales he will make sure that the future-oriented customer requests are gathered together to influence ASC's corporate strategy, and he will guide ASC's day-to-day PreSales operations.
Marco Mueller, Chief Operating Officer of ASC, said, "We are looking forward to collaborating with such an extraordinary, dedicated and experienced new colleague. At ASC, we always focus on high-level technical solutions and extraordinary customer orientation. This strategic approach combined with Mr. Kleinschmidt's expertise will ensure excellent consulting services and solutions for our customers."
Prior to joining ASC, Mr. Kleinschmidt held diverse international positions for more than 20 years, developing leadership skills in Consulting, Product Management and Professional Services at Siemens/Unify demonstrating the necessary expertise to lead ASC's PreSales team. He also received a degree as an electrical engineer and served an apprenticeship as a telecommunications engineer.
About ASC
ASC is a worldwide leading software company with innovative solutions to record, analyze and evaluate communications. All multimedia interactions in contact centers, financial institutions and public safety organizations are documented and analyzed. The content of communications becomes transparent, critical information is generated and market trends are revealed, providing real-time business intelligence for immediate management action.
ASC solutions make customer experience measurable. Specific actions can be taken to significantly improve customer retention, increasing corporate revenue and creating sustained loyal customers. Thus, ASC's clients are always one step ahead of the competition.
ASC also offers its entire suite as a Cloud solution. Therefore, customers have the choice to retrieve Software as a Service, on demand and always up-to-date, without any risk or pre-investment, and in the most flexible manner.
With subsidiaries in the United Kingdom, France, Switzerland, the United States, Brazil, Japan, Singapore and Dubai, as well as certified and vastly experienced distribution partners, ASC's ambitious projects span more than 60 countries. Headquartered in Germany, ASC is a powerful global player with an export quota of almost 70 percent and a worldwide service network.