An Internet of Things application from ZONR Group® (www.zonrgroup.com) is set to transform social housing efficiency, boost tenant satisfaction and support sustainability targets. The first of its kind, the ZONR application combines the latest intelligent sensor technology, smart data transmission and decision engine analytics to centrally monitor and support heating systems across a social landlord's housing stock.
Now headed up by social housing technology entrepreneur Robert Dent, ZONR has invested in significant Research and Development over the past 18 months and has already conducted a number of successful pilots. ZONR also expects to conclude strategic agreements with a number of UK and European collaboration partners to enable a complete end to end solution. Joining Dent on the ZONR board are Business Development Director Cherry Rance and Technical Director Karl Hulme. Between them the ZONR management team has over 40 years experience of technology in the social housing sector.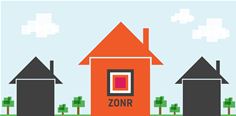 The intelligent sensor technology, used by ZONR, can be readily deployed across a wide range of housing types irrespective of whether the properties are occupied, new-build or void. Once installed, ZONR's cloud-based system significantly drives down the operating and maintenance costs of heating equipment, boosts tenant satisfaction through lower energy bills and optimises both assets and workforce productivity. It also allows managers to identify problems such as fuel poverty, poor insulation, potential safety scares and threats to the environment.
Commenting on the launch of the new application ZONR Group's CEO Robert Dent said, "By definition, a smart home is the sum of the devices inside it, that create a home that is integrated, clever and simple. The Internet of Things has enabled this to become a reality and as such represents a whole new landscape of opportunity for both social landlords and their tenants. On one hand, it allows the landlord to manage their operations even more efficiently, to maintain their stock and assets better and to meet sustainability targets. On the other hand, from the customer perspective, there will be extremely satisfied tenants, living in warmer, drier, better-maintained homes with lower energy bills. In short, everybody wins.
"We have already seen the same kind of technology revolutionise the commercial property world. Analyst group Gartner estimated that smart commercial buildings represent 45% of total 'connected things' in use in 2015. It also forecast that this will rise to 81% by 2020. There is enormous potential then for this technology to also make a real difference in the social housing world. This is especially relevant given the added pressures faced by social landlords following the recent budget, so you can see a strong momentum building – one that will drive the widespread adoption of this approach. Our vision reflects this, as we believe that very soon every social home in the UK will be fitted with intelligent sensor based technology. And given the initial response that we have already received from social landlords for this application, we are exceedingly confident that this vision will soon become a reality."