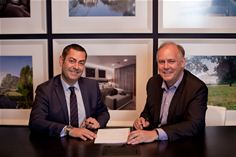 London, England: 12th October 2016 – Specialist value added distributor (VAD) Zycko, now part of the Nuvias Group, today announced it has been selected as Nokia's first pan-EMEA distributor and will have access to a comprehensive suite of Nokia solutions.
This partnership marks an important step forward in the go-to-market diversification at Nokia, extending channel and value-added distribution, to help expand the company's footprint in the enterprise and mid-market space across EMEA.

Initially, Zycko will focus on hardware and software integration of IP routing and optical transport networks, fibre-based LAN connectivity infrastructure for buildings/campus', open standards DDI management software, and software defined networking.

Nokia is uniquely positioned to help communication service providers, governments, and large enterprises deliver on the promise of 5G, the Cloud and the Internet of Things. Nokia's solutions are carrier/telco-grade, scalable to meet the most demanding XLE environments, whilst offering partners limitless scope to create their own global services across multiple products.

Dave Parker, VP Strategic Partners, at Nokia, commented: "We are delighted with this appointment. It gives us access to a wide network of resellers experienced in communications and networking across the EMEA region. We are impressed with Zycko's extensive portfolio of value added services. As part of the Nuvias Group, Zycko can offer a true, professional EMEA solution, with sales, marketing and technical support, as well as consistent delivery spanning the region. The type of distributor that Zycko and Nuvias are building internationally complements our own growth plans."

Significant move forward for Nuvias
Paul Eccleston, head of Nuvias Group, commented: "This deal with such a major global brand as Nokia is a massive vote of confidence in Zycko and Nuvias, and is a strong endorsement of our concept of redefining international, specialist value distribution. Nokia has a unique place in the connected world, with exceptional products, and we look forward to helping them successfully grow their pan-EMEA distribution network and increasing sales in the enterprise and mid-market sectors through the channel."

About Zycko
Zycko is an international specialist IT distributor of innovative IT solutions, covering technology areas for every part of the business IT infrastructure. Areas Zycko covers include data networking, data storage, virtualisation, cloud, monitoring & management, and data centre infrastructure. Zycko selects leading edge strategic partners and technologies that provide its customers with an opportunity to differentiate themselves in a crowded market. Today Zycko has 17 offices across EMEA and serves the rest of the world from its UK-based headquarters. Zycko delivers first class, sophisticated professional services, accredited training, marketing and business development support to its customers.http://www.zycko.com

About Nuvias Group
Nuvias Group is the pan-EMEA, high value distribution business being built by Rigby Private Equity (RPE) to redefine international, specialist value distribution in IT. The Group provides a common proposition and consistent delivery across EMEA, allowing channel and vendor communities to deliver exceptional business value to customers, and enabling new standards of channel success.

The Group today consists of Wick Hill, an award-winning, value-added distributor with a strong specialisation in security; Zycko, an award-winning, specialist EMEA distributor, with a focus on advanced networking; and SIPHON Networks, an award-winning UC solutions and technology integrator for the channel. All three companies have proven experience at providing innovative technology solutions from world-class vendors, and delivering market growth for vendor partners and customers. The Group has 17 regional offices across EMEA, as well as serving additional countries through those offices. Turnover is in excess of US$ 330 million.