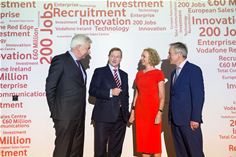 -Investment of €60m will result in the creation of 200 new jobs-
DUBLIN, 8th July, 2015 – An Taoiseach, Enda Kenny TD, Richard Bruton TD, Minister for Jobs, Enterprise and Innovation and Alex White TD, Minister for Communications, Energy and Natural Resources, today announced that Vodafone Ireland is to establish a new European sales centre located in Carrickmines in Dublin.  Vodafone, Ireland's leading total communications provider will invest €60 million in the centre which will result in the creation of 200 permanent jobs. The European sales centre, "Vodafone Red Edge", will provide specialist sales capability powered by leading-edge technology to support business customers in Ireland, the Netherlands and the United Kingdom.
The announcement was made at an event this morning in Vodafone Ireland's headquarters at Mountainview in Leopardstown and demonstrates Vodafone's continued commitment to investing in Ireland.  Ireland was chosen, following a thorough evaluation process, for the location of the centre primarily because of the access to a large pool of the country's highly skilled and talented graduate population.  It is supported by the Department of Jobs, Enterprise and Innovation through IDA Ireland.
Originally piloted last year, the Centre has performed very well, resulting in a decision by Vodafone to commit to a five year €60 million investment which will secure 200 permanent roles. Carrickmines will be the principal European location, with two additional support hubs located in Central and Southern Europe.
Recruitment for the new jobs is already well underway and employees will gain access to internationally recognised business analytics and sales training which will provide career development opportunities across Vodafone operating companies.
An Taoiseach, Enda Kenny TD, said "The creation of 200 new jobs by Vodafone, with this significant investment in a new European sales centre, is a vote of confidence in Ireland's economy.  The Government is working hard to rebuild a sustainable enterprise led economy, which is a prerequisite for full employment.  Today's new jobs highlight Ireland's attractiveness as a location where companies have access to a talented and highly skilled work force.  This sales centre also demonstrates how companies like Vodafone are progressing with innovative approaches to how they do business.  The jobs-led recovery is founded on economic and political stability and we are determined to maintain this progress into the future."
Anne O'Leary, CEO Vodafone Ireland said: "We are delighted to secure this investment for Ireland which further demonstrates Vodafone's on-going and long-term commitment to developing our business in Ireland and to developing support roles from Ireland for the wider Vodafone Group and its customers. The selection by Vodafone of Ireland as a location for this European sales centre also demonstrates Ireland's standing in Europe in terms of availability of highly skilled people for these emerging and developing roles.
"In addition, the centre will bring the latest in innovation including advanced sales tools and data analytics to determine customer needs and attitudes. We hope to offer much more in terms of answering all our customers' communications needs while developing the right solutions so that our business customers continue to perform at their best."
Speaking at the event, the Minister for Jobs, Enterprise and Innovation Richard Bruton TD added:
"Data analytics is a key sector which we have targeted as part of our Action Plan for Jobs, and in recent years we have seen some major wins in this area. Today's announcement by Vodafone that it is making a significant investment in Ireland with the establishment of a major international sales centre here, relying on analytics technologies, is a very welcome boost. I wish Anne and her team every success with this project".
Welcoming the announcement, Minister for Communications, Alex White said: "Vodafone's selection of Carrickmines as the principal location for its new European sales centre underpins the strength of the telecommunications sector in this country. The 200 additional roles that are being created as a result of this €60 million investment are quality jobs, which will contribute to Ireland's strengthening recovery. Investments like this have put Irish telecommunications at the cutting edge of global developments."
Martin Shanahan, CEO of IDA Ireland concluded, "We are very pleased to support Vodafone on expanding its global presence here from Ireland – we are particularly encouraged by the rationale behind why Ireland was seen as a natural choice for this European Sales Centre. Vodafone has deep roots in Ireland and it very gratifying to see the company deploying leading edge technology in its Irish operations which serve multiple markets across the world. This latest investment will embed Ireland further within the wider Vodafone group."
Vodafone Ireland's announcement today will bring its number of direct and indirect employees to approximately 2,000, with a customer base of 2.3 million. The company is recognised as one of the Top 10 Great Places to Work (see note to Editors) and has pioneered New Ways of Working across its business. Refurbishment of the new state of the art facility in Carrickmines will be completed in September. More information on the jobs is available atwww.vodafone.ie/jobs.