High Wycombe, UK, 2 May 2018 – International POS printer manufacturer Star Micronics has today announced that PMC will be demonstrating its mobile payment solution Store Enabler on the Star stand F100 at RBTE 2018 (2 – 3 May, Olympia, London). Working in partnership with Star, PMC's solution has allowed Specsavers to mobilise the payment process and create a highly personalised customer experience.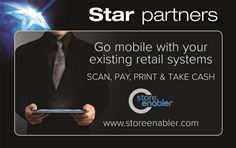 Without doubt, Tablet POS can facilitate and enhance the entire customer experience. One of the ways in which Specsavers has changed the industry is the introduction of personal service at dedicated desks using innovative applications on iPads. Specsavers is the first optical company to introduce digital measurements for the dispensing of glasses, which is "really rather clever".
This approach has been hugely popular with customers. Specsavers, however, faced a challenge in terms of wanting to be able to improve the customer journey even more by allowing customers to make card payments at the counter rather than taking the customer to a busy till point. This would enable them to create a very personalised customer experience journey.
In terms of taking the payments, there were a few business challenges that were faced;
Managing mobile payments in a bank approved manner
Specsavers' ageing POS application did not support mobile payments
Specsavers turned to PMC and its mobile payment solution, Store Enabler. Store Enabler has been specifically designed to meet the mobile payment challenge in a Customer Present environment. It manages POS peripherals such as scanners, printers and payment devices and can be driven from the customer's POS application or their website. PMC's Solution Architects and off-shore development team were able to develop modifications to the POS application which enabled it to interface with and drive Store Enabler.
Store Enabler allows Specsavers to use any mobile device with their existing Star TSP700 and TSP700II printers as well as existing payment provider, making it easy to completely mobilise the payment process. Specsavers can run a number of devices from the one master till located in the store and take transactions along with Customer Present payments seamlessly from the iPad. Store Enabler even gives the associate the option of printing the customer's receipt to the nearest available Star printer.
Elliott Winskill, Store Enabler Product Manager at PMC, states: "With a small amount of work PMC took the legacy POS system and enabled Specsavers to use iPads to complete the full selling journey. This did not require widespread changes to any of their systems and means updates are quick and efficient. We also support the latest version of iOS before it is released ensuring that Specsavers can always be at the forefront of technology."
Star's solid reputation for innovative product design, reliability and multi-platform support alongside over 40 years' experience providing retailers with traditional and Tablet POS printing solutions means Specsavers benefits from a high level of expertise and experience alongside excellent technical support.
As David Pearce, Technical Director, Star Micronics EMEA, says: "Star has a long established relationship with Specsavers which has used a range of Star printers with different Ethernet interfaces for over 15 years. By working closely with PMC and Star, Specsavers has been able to seamlessly turn an existing POS application into a mobile POS environment that completely mobilises the payment process and creates a personalised customer experience."
The end result is an easy to use solution on an iPad. This allows the Specsavers' associate to extend the highly personal customer experience all the way through to the end of the card payment transaction without the need for the customer to move around the store. It allows Specsavers to put more till points in the store very economically, therefore easing transaction completion without causing crowding.
Annette Tarlton, Marketing Director, Star Micronics EMEA, adds: "We are very pleased to have PMC on our stand at RBTE 2018 demonstrating its mobile payment solution, Store Enabler. This solution, using Star TSP700 and TSP700II printers, has enabled Specsavers to effectively mobilise the payment process and create a highly personalised customer experience."
Background Information on PMC
Store Enabler allows retailers to implement mobile PoS using their existing retail systems. Store Enabler allows retailers to scan products, take secure cardholder present chip and PIN payments, manage cash and print receipts (to zone, fixed or mobile printers) from mobile devices running both Android and iOS. www.pmcretail.com
Background Information on Star Micronics
Founded in 1947, Star Micronics is one of the world's largest printer manufacturers and has facilities for worldwide production, marketing and support. Employing over 1900 staff and achieving turnover in excess of £250 million, Star Micronics has developed a POS printer portfolio that spans thermal and dot matrix printers and mechanisms, designed for barcode, ticketing, receipts and labelling. Star's proven technology is also being utilised to install print mechanisms in multimedia kiosk environments. The Star Micronics' range is available internationally via a distribution channel comprising distributors and dealers.
---
For further information, please visit www.Star-EMEA.com or contact:
Annette Tarlton
Marketing Director
Star Micronics EMEA
Tel: +44 (0)1494 471111
Email: Atarlton@Star-EMEA.com
Claire Smith
PR Manager
Star Micronics EMEA
Tel: +44 (0)1494 471111
Email: Csmith@Star-EMEA.com
Kerry West
Marketing Manager
PMC
Tel: +44 (0)1235 521900
Email: Kerry.west@pmcretail.com