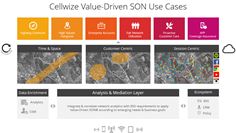 Value-Driven SON® provides the right mobile network experience for the right customers at the right time
Cellwize, the innovative Self-Organizing Networks provider, has revealed how its Value-Driven SON® solution can provide mobile operators with the means to ensure better customer experience for selected audiences, thereby driving new business for operators. Cellwize' Value-Driven SON shifts the value generated by the network to the end customer – moving from a Network-Centric SON to a Customer-Centric activity. The latest whitepaper from Cellwize "Value-Driven SON – Putting the Customer at the Network's Center" is a must read for forward thinking operators who are introducing customer-focused metrics.
As operators globally look to maximize user satisfaction, several are using metrics to measure quality of experience (QoE), net promoter scores (NPS) and data service revenues. In fact some are starting to use the term Key Quality Indicator (KQI) to describe these metrics and distinguish them from the more operational KPIs. And, unlike KPIs, KQI's are generally at a customer level – either for selected customers or a segment of customers.
 "We believe that SON should be driven by the business objectives of the operator and not by the immediate need to reduce complexity and costs in the network itself," said Ofir Zemer, CEO of Cellwize. "And since operator's business objectives aim to deliver superior value to various groups of end-users; Value-Driven SON allows mobile operators to turn this value to enhanced revenue. Value-Driven SON connects customer insight generated in and around the network with network optimization technology, and is driven by the operators' business goals. Ultimately, the network is there to serve a purpose and the shift to the user will enable a quicker path for operators to deliver better performance and better user experience."
The Whitepaper illustrates the benefits of a customer-centric approach with Value-Driven SON through two types of use cases: commuters and enterprise customers. The first depicts Value-Driven SON for Space & Time use cases – prioritizing network resources to meet the demand of commuters along a specific route experiencing poor service quality, such as dropped calls, session termination, latency and data throughput. The second, explains how Value-Driven SON can prioritize and maximize network performance for a defined group of customers e.g. enterprise customers.
Download the whitepaper to find out more about "Value-Driven SON®: Putting the Customer at the Network's Center".
Additional information
About CELLWIZE
Cellwize provides cutting-edge SON (Self Organizing Network) solutions to mobile operators. Mobile networks empowered by its proprietary elastic-SON® continuously react to real-time changes and match capacity, coverage and quality with evolving usage patterns and users' needs. Cellwize was founded by telecom professionals and its technology was designed by RF experts mastering network topology and behaviours. Cellwize is headquartered in Singapore with R&D and sales offices across the EMEA region.
For more information, visit http://cellwize.com/ or contact info@cellwize.com, read the latest posts athttp://www.cellwize.com/news and follow the company on Twitter: @cellwize