Innovative platform can boost chess strength
Backed by YouTube chess master
Uses science-based training technique
Site is app-store for chess content
Chessable, the chess trainer lauded by YouTube chess star John Bartholomew, is ready to make a major push into the e-learning market after attracting nearly £100,000 of investment.
The innovative platform, that claims it can help boost users' chess strength up to master level through its unique science-based training technique, received backing following a successful round of SEIS approved funding.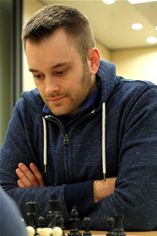 Chessable was developed and co-founded by Swindon-based educational psychology and video games specialist David Kramaley and International Master Bartholomew, the hugely-popular US chess professional.
The site, which is optimised for mobile devices, allows anyone to learn a wide range of openings and precise endgame techniques at home and on the move.
Users also get access to an expanding library of original free and paid-for digital books and videos produced by grandmasters, masters and expert-level players who contribute on a third party basis.
Since its launch, Chessable has, in effect, become an app-store for respected chess content.
Among the contributors is International Master Christof Sielecki, who published a book on the Benko Gambit opening through the site which quickly became a best-seller.
"Publishing chess content on a digital learning platform such as Chessable is the future," he said. "Not only is it an active form of learning, but the costs of producing and distributing the educational content are much lower than via traditional means, meaning I can focus on working on what I do best, chess theory."
Mr Kramaley, the CEO of Chessable, added: "We're delighted more and more people believe in our method. Getting better at chess, a game that has more different legal moves than there are atoms in the universe, can seem a daunting prospect at any level."
"Chessable is an e-learning platform that uses the latest psychology and neuroscience-based learning techniques to move you on every step of the way. Our plans in the near future include using artificial intelligence and machine learning techniques to improve individuals' learning even further."
"Whether you're a complete beginner or an aspiring grandmaster, we are building the best tool out there to make learning easier."