Thoughtonomy announced today that Ben Case has joined the company as Director of Solutions based in Austin, TX, helping to accelerate the growth and ongoing development of the Intelligent Automation platform, and the momentum of the business in the US market and globally. Ben was previously Director of Cognitive Solutions at automation firm IPsoft, and brings a wealth of experience in the application of machine learning and Artificial Intelligence to deliver business benefit across some of the world's leading organizations.
The creation of this new position is one of many investments Thoughtonomy is making to reinforce its industry leading and increasingly cognitive technology and its focus on bringing the benefits of its award winning Virtual Workforce platform to clients across industries, markets and geographies.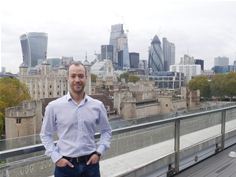 Craig Le Clair, Vice President and Principal Analyst at Forrester, views the inclusion of AI as critical to addressing the market potential for efficiency in office workforce productivity – or 'cubicle spend'. "View RPA as a practical step into the cognitive era", he recommends, "But don't stop there. Over time, obtuse RPA will be augmented by AI algorithms that learn from mistakes and can be trained to take on more nonroutine activities." Le Clair's recent marker report[1] estimates that "AI will lift the RPA market to $2.9 Billion by 2021."
Thoughtonomy has continued its impressive growth throughout 2017, with quarter on quarter revenue growth tracking in excess of 40%, continuing the 300% annual growth trend of the previous two years. Through direct client engagement, an increasing ecosystem of partners, and a globally available SaaS platform, Thoughtonomy is delivering value to over 150 clients in 27 countries, including Global 500 firms, enterprise businesses worldwide, public sector organizations, and emerging industry disruptors. "Our vision is to provide highly secure and flexible digital labor to organizations of all sizes. The Virtual Workforce is a technology platform onto which customers or partners build work using their process knowledge. With most organizations constrained by the availability and productivity of skilled office based workers, we are offering them the opportunity to configure digital labor alongside human workers to maximize productivity and create new delivery opportunities," commented Thoughtonomy CEO Terry Walby.
"Our relentless focus has been on providing a platform which delivers rapid and compelling business value," Walby added. "In addition to supporting an increasing number of clients across the globe, we aim to ensure the functionality of our platform remains market leading and enables clients on an evolving journey from work automation through to digital transformation."
"RPA as we know it today has reached a key inflection point. Leaders will be defined by those willing to push beyond the space of traditional robotics and embrace the tremendous potentials that lie within intelligent and cognitive systems as the force multiplier to basic RPA." said Ben Case, "I'm thrilled to be joining the brilliant team here at Thoughtonomy and excited to be a part of a continued journey to innovate and deliver on the true promise of these technologies; to enable our clients to transform the ways in which they do business, to optimize the products and services they deliver to their customers, and to transform their internal teams from operators to innovators."
Phil Fersht, CEO of HfS, the leading RPA and operations analyst firm, states, "As more processes become digitized, the more value we can glean from cognitive applications that feed off data patterns to help orchestrate more intelligent, broader process chains that link the front to the back office. With on-demand solutions, such as Thoughtonomy, we are seeing a real convergence of analytics, RPA and cognitive solutions as intelligent data becomes the true lifeblood for ambitious digital organizations."
[1] The RPA Market Will Reach $2.9 Billion By 2021, Forrester Research, 2017
---
About Thoughtonomy:
The Thoughtonomy Virtual Workforce® is an as-a-service automation platform. It uses software to replicate the interactions of people and technology to automate a wide range of operational and support processes quickly, cost effectively and reliably. Deployed non-disruptively, it requires no replacement of systems, deployment of agents, software development or system integration. Headquartered in London, UK, Thoughtonomy work with leading service providers, integrators, outsourcers and enterprise clients globally to realise the enormous potential of virtual workers as part of a delivery organisation.
http://www.thoughtonomy.com/
twitter – https://twitter.com/thoughtonomy
Linkedin – https://www.linkedin.com/company/thoughtonomy
advt979