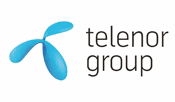 Invitation – Telenor Group Sustainability Seminar on 12 May 2015
Telenor Group will host a sustainability seminar in London on Tuesday 12 May. The seminar will give an introduction to Telenor Group's work on sustainability and includes presentations from Telenor Myanmar and Telenor Bulgaria, in addition to a session on Human Rights – Privacy and Freedom of Expression. The seminar will be hosted by Jon Fredrik Baksaas, CEO of Telenor Group. 
 Date:    Tuesday 12 May 2015
Time:   11:00 – 15:30
Venue: Hotel Andaz, Liverpool Street, London
You may also follow the presentations via web cast. Registration is only required for personal attendance in London. You will receive a confirmation by email once you have been registered.
For up-to-date agenda and practical information, please see http://www.telenor.com/investors/presentations/2015/telenor-group-sustainability-seminar/
For registration and further information, please contact:
Hanne Aune, Telenor IR, email: hanne.aune@telenor.com
Tel +47 67 89 27 15
Agenda*
Time
Topic
Speakers

11:00-11:30

Registration

11:30-12:00

Introduction

Jon Fredrik Baksaas, CEO, Telenor Group

12:00-12:50

Telenor Myanmar

Petter Børre Furberg, CEO, Telenor Myanmar

12:50-13:30

Lunch

13:30-14:10

Telenor Bulgaria

Stein Erik Vellan, CEO, Telenor Bulgaria

14:10-14:20

Coffee break

14:20-15:20

Human rights – Privacy & Freedom of Expression

Mai Oldgard,  Head of Sustainability, Telenor Group
John Morrison, Executive Director, Institute for Human Rights and Business (IHRB)


Muhammad Aslam Hayat, Chief Corporate Affairs Officer, Telenor Pakistan

15:20-

15:30

Closing remarks
Jon Fredrik Baksaas
* The agenda is subject to change