Next week's SCWS World to provide expert insight into the challenges and opportunities within the wireless connectivity market
London, UK. 18 May 2017 – Experts from Telefónica O2, AEG Europe, Google, BT, Nokia, AT&T, KDDI, Ericsson and more will next week come together to speak at SCWS World (22-25 May 2017, London), organised by Avren Events, to discuss the key challenges and opportunities within the field of wireless connectivity. The focus of the event will be dynamic technologies including Small Cells, DAS, and Wi-Fi, as the advent of the IoT and 5G world is enabling a seamlessly wireless and connected society to become a reality.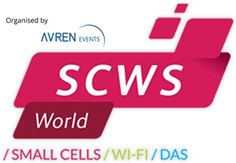 The four-day event, which includes an opening day of seminars, a two-day conference, a focus day, and live demonstrations, will bring together panellists and speakers from around the world to deliver high-level discussions on wireless connectivity solutions, and building the network of the future. Multi-operator solutions for buildings including airports, arenas, stadia, hotel and real estate will also be discussed to ensure they are fit for purpose moving forwards.
This week, the Small Cell Forum, the exclusive partner of SCWS World, has announced the launch of its Enterprise Advisory Council (EAC) in a bid to bring members together to forge deeper ties between all the key players involved with Small Cell connectivity, whether that is businesses, consumers, operators, or vendors. The Forum has already begun a targeted campaign within the hospitality sector – the first of several key verticals.
"All venue owners want their customers to have a great experience when they attend an event," said David Jones, Vice President of Information Technology at AEG Europe, speaking ahead of the conference. "The customer's focus will be on the act or sports team they are coming to see, and they will want everything else in their venue experience to be as smooth as possible. Customers don't hesitate to tell us that they want great connectivity when they come to our venues – providing a high-quality DAS and Wi-Fi network in the venue is therefore essential."
On day two of the conference, the first panel session will address how to expand indoor reach through multi-vendor and multi-technology solutions and explore new models for access. Adding his expert opinion to the session, Karl Liriano, Head of Mobile Access at Telefonica O2 will provide unique insight into how O2 is going to provide Wi-Fi and enhanced 4G coverage for the City of London.
Ahead of the panel, Liriano commented: "At O2, we are already taking advantage of the greater convergence between Wi-Fi and Small Cells solutions, which is set to continue as we're increasingly seeing new developments in unlicensed spectrum and multi-operator Small Cells. This, coupled with the fact that the market has opened-up beyond just the major cellular vendors, makes it an exciting time to be working with Small Cells and we look forward to discussing the many opportunities and challenges experienced by those within the field."
Other hot topics on this year's agenda include backhaul, SON and MEC, which will be supported with demonstrations and Proof of Concept (POC) exhibitions.
David Sackheim, Marketing Manager at Avren Events, said: "With a matter of days to go, the countdown really is on. Our flagship event is set to make its mark on the industry as we welcome more than 100 speakers and over 1,000 attendees from around the world. We're excited to bring together a diverse range of experts to discuss best case practices, the latest advances in Small Cells, DAS, and Wi-Fi and how these different technologies can be applied to networks to the consumers' benefit."
SCWS World will be co-located with LPWA World, the Internet of Things (IoT) network event, and is taking place at the InterContinental O2 Hotel in London, UK from 22 – 25 May 2017.
For more information, and for your last chance to register, visit the SCWS World website here http://www.scwsworld.com/welcome.
---
About SCWS World
SCWS World is the only event that brings together the entire small cells ecosystem to share trial and deployment experiences, build lasting business relationships with qualified industry stakeholders and provide a platform for exciting new product launches and technological developments. The event is exclusively endorsed by the Small Cell Forum. Specifically targeted at the mobile operator and end user community, SCWS World offers practical no-nonsense advice to CTOs, engineers and senior managers, helping them select the strategic and technology partners that are right for them.