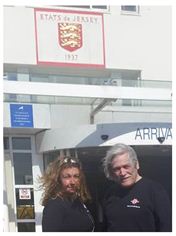 Britain's newly launched British tech focused news and analysis website will visit nine key tech hubs in just 80 hours to show what its upcoming Tech Torch Tour can achieve in 2015
St Helier, Jersey – 9th June 2015 – TechBritannia, Britain's voice for the InfoTech, BioTech and CleanTech sectors, has launched a crowdfunding campaign to fund its Tech Torch Tour of the British Isles. The campaign is running until July 25th, Rosalind Franklin's birthday.
The crowdfunding launch includes a Richard Branson style publicity initiative #AroundTechNationIn80Hours. This lightning tour starts at Digital Jersey's offices in St Helier at 12:00 today. It is taking in nine major tech hubs around the UK: Jersey >> Bristol >> Cardiff >> Glasgow >> Belfast >> Newcastle >> Cambridge >> Norwich landing finally in London in the IncuBus. The TechBritannia team will have garnered the opinions of the tech nation in just 80 hours and plan to share what they have learned with Mr Cameron over a cup of tea at 5pm on Friday, 12th June.
This launch activity is perfectly positioned the week ahead of the BCS App-a-thon – Guinness World Records Challenge for the most people learning to code at the same time on Saturday, 13th June and London Technology Week taking place between 15th-21st June.
Too much tech developed in the UK lies in the shadow of the London hubs and TechBritannia has been created to cast the light of publicity in all four corners of the kingdom. The rest of England, Scotland, Wales, Northern Ireland, the Isle of Man and the Channel Isles all have thriving research, startup and established tech companies which deserve as much, and in some cases more, attention than the capital city's chosen few.
Even the setting up of the Northern Powerhouse of Manchester, Leeds, Sheffield and Newcastle will only partially correct the myopic vision of government and the mainly London-based media. TechBritannia has set itself the task to seek out true innovation in the UK wherever it lies – and the Tech Torch Tour is a kick-off point towards turning isolated islands of excellence into an interactive nationwide community.
Eric Doyle, co-founder and editor-in-chief of TechBritannia said, "Instead of sitting in an office hoping the awesome stories of British-based achievements come to us. TechBritannia has decided the best way is to tour the country, meet the researchers and entrepreneurs and learn first-hand not only what they are doing but what they think should be done to realise their silicon dreams."
But this needs money to make it all happen and crowdfunding is an integral part of modern tech investment. Who better to go to Britain's own leading rewards-based platform, Crowdfunder UK, based in Newquay, Cornwall. The team plan to raise at least £`10,000 towards the cost of putting on the tour across regional 10 tech hubs across Autumn and Winter 2015.
The Tech Torch Tour – Harnessing the Olympic spirit for UK's tech industry
The tour will visit at least 10 locations across the UK. The crowdfunding element of the tour will focus on meeting with tech rockstars in each region. The rockstars we meet will be made up partly of tech companies who pledge for that crowdfunding package and other will be those who have applied in advance who will be invited to pitch and the remainder who join us on the day. Each leg of the tour will also include a social event in conjunction with local tech communities.
Subject to commercial sponsorship, the tour would expand to also include a seminar covering key topics such as IP law, funding and partnerships in the tech business community and a spotlight on local tech successes to share experiences and to offer advice on how to make innovation and innovators in TechBritannia successful.
Some of the places outside London, TechBritannia would like to visit are:
Belfast
Birmingham
Brighton
Bristol
Cambridge
Cardiff
Cornwall
Dundee
Edinburgh
Glasgow
Jersey
Leeds
Liverpool
Manchester
Newcastle
Norwich
Oxford
Sheffield
People power: The tech crowd decides
At the heart of the crowdfunding is an innovate element of enabling the crowd to determine the Tech tour itinerary, to be specific the actual tour locations themselves. Basically any region which secures £1,000 of funding will automatically be added to the tour schedule. This ensures that active tech communities can proactively influence TechBritannia's mindshare.
Giving back to the Tech community: The Crowdfunding rewards
All individual and corporate crowdfunders become TechBritannia Personal Ambassadors. All of them:
Are part of the #WeAreTechBritannia selfie campaign
Are included in "TechBritannia – The Story of British Technology" book – photo and credits. Planned for publication in 2016
Nominate their top Tech Tour destination (regardless of their own location. Meaning overseas pledgers can support a local community). The top five destinations will be included in the itinerary and any location with £1,000 or more pledged will also automatically be part of the tour.
Gain access to the priority club for the equity crowdfunding phase which is scheduled for Summer 2017.
Thank you email and tweet, if they like that
Then the packages various other rewards is cool TechBritannia merchandise and for corporates editorial opportunities including: TechBritannia mugs, exclusive official TechBritannia Tech Torch Tour Road Crew t-shirts, TechBritannia Beach towel (Homage to geek hero Douglas Adams' Hitchhikers Guide to the Galaxy) and even some branded deck chairs.
Industry Supporter Quotes:
"Digital Jersey welcomes TechBritannia's enterprising approach to showcasing all the great tech projects in the British Isles. Jersey often gets overlooked and yet in a half-mile radius there is a considerable concentration of startups, funders, and large corporations. This means that ideas thrive and grow more rapidly through our community spirit and we are seeing amazing companies being set up and established in digital health and especially the FinTech area.
Andy Jarrett, Director, Digital Jersey
"We talk with many start-up tech businesses who are looking for support and advise them on their software and Internet technology development. With the Cornish air and culture, people develop fantastic creative ideas which translate into incredibly exciting new products and solutions. Continually we hear the biggest challenge for these new businesses is gaining market traction and early stage investment. Both of these challenges stem from a lack communication and publicity. The thrilling aspect of Tech Britannia is that it's seeking out these new companies across the length and breadth of the country. This will give a much needed boost to the ideas people and allow them to contribute more fully to Great Britain's Tech Industry."
Toby Parkins, Director, UKNetWeb Ltd – Director, Headforwards Solutions Ltd – Founder and Director, Agile on the Beach Ltd – President, Cornwall Chamber of Commerce – Founder, Cornwall Digital Meetup – Group Director, Software Cornwall Ltd
"The same vibe we had in the early days before we were the No 1 global hub is what I'm seeing elsewhere in the UK. As a smart city specialist my work shows the importance of local as we move towards the Internet of Things. Each local hub has something different to offer both to the UK and abroad. TechBritannia is focusing on showcasing the innovation across the UK showing the world that we are a nation of entrepreneurs. If you want to know what's new what's cool and what's next this is the place to visit."
Jacqui Taylor, CEO of FlyingBinary, one of the original UK Tech City companies
'The technology sector is UK's the fastest-growing sector. From the bustling streets of Bristol to the windy roads of Edinburgh, tech innovation can be found everywhere. London is a key driver of this extraordinary growth in tech, but it is a nationwide phenomenon. Tech knows no boundaries, and this is why the relationship between Tech London Advocates and TechBritannia is so important. Our work demonstrates the integral nature of technology, which is needed to ensure the future success of Britain as a truly 'tech nation'.'
Russ Shaw, founder of Tech London Advocates
"Having worked with the TechBritannia team first hand, as they came through the inaugral cohort of the UK's pre-accelerator programme Fast Forward, we were given a sneak preview of the opportunity that Rose and Eric have identified. Promoting and championing a wide range of tech across the UK, not purely with the typical London bias, they will help identify new trends and emerging tech clusters for both startups and scaleups. Actually visiting the regions and getting to know the great tech businesses is incredibly important, ensuring the UK builds on its huge potential to support and grow fantastic technology companies.
Ian Merricks FBCS, Chair, The Accelerator Network
""Tech communities across Britain are vibrant, dynamic places where the best British brains are constantly collaborating on projects without borders. The needs of these communities are diverse and immediate: only by being embedded within your local tech community can you truly understand how best to support their growth. TechBritannia is the best platform for academics and journalists to get to know their local scene from the inside."
Mark Smith, TechBritannia Chief Education Ambassador, Executive Director, Unlocking Potential, Plymouth University (with Cornwall College)