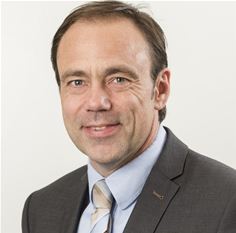 Co-founder Keith Sauvant will continue in a new advisory role as of January 1, 2017
Aachen/Germany, October 18, 2016 – There has been a change in top management at the SAM specialist Aspera: Stephan Pflanzer has been appointed Managing Director for Development and Technology effective October 1, 2016. Following a three month transition phase, Stephan will succeed Keith Sauvant, who has been a member of top management for 16 years. Keith Sauvant will continue to assist Aspera in an advisory role as of January 1, 2017.

"We are delighted to have won Stephan Pflanzer, an experienced IT manager, to continue product development at Aspera," states Keith Sauvant. "I'm more than proud and happy looking back at the company's successful development. To this day, Aspera stands above all else for exceptional customer relationships. The dedication we have to always finding the right solution will continue to motivate us moving forward."

"The market for software asset management solutions is in an exciting growth phase," adds Stephan Pflanzer. "Aspera offers market-leading solutions for complex, cost-intensive licensing models that enterprises need now to leverage SAM as a strategic advantage. The way the Aspera team lives and breathes strategic license management won me over right away."

Stephan Pflanzer has many years of experience in development and user support, and last worked for Diehl Informatik GmbH, which is headquartered in Nuremberg. He held various management posts there and, as a member of top management, was responsible for the user and consulting segments for SAP and Web applications. Stephan will work closely with Keith Sauvant, who will move to product management in 2017 and devote his expertise to strategic product development.

In the year 2000, Keith Sauvant teamed up with Christof Beaupoil and Bernhard Boehler to found Aspera GmbH with the goal of supporting large organizations and corporations with license management. Together, they built the company into one of the world's leading SAM providers. Aspera now employs approximately 220 people and has a global footprint. In the year Aspera was founded, the new company presented the concept of "software license management based on a SKU (stock keeping unit) catalog" to the industry. After two years of development and sales work, the first customer – a Fortune Global 500 enterprise with more than 100,000 employees – placed the first order by fax. To this day, Aspera's SmartTrack solution is the only license management platform that automatically calculates server metrics, obtains data from a consistent master catalog in real time and covers more than 200 software vendors. SmartTrack is also the first SAM platform to demonstrate virtualization and cluster topologies. In 2002, Aspera provided the first SAM cloud service and in 2011 was the first vendor to offer "License management as a Service (LaaS)."

With the launch of the reporting solution SAM Intelligence and an innovative Simulation release, Aspera has again set new standards in license optimization in 2016.

About Aspera
Aspera is a highly specialized provider of software asset management solutions. Hundreds of enterprises worldwide rely on Aspera, including more than 35 Fortune Global 500 companies. Since 2000, our award-winning software and services–including the SmartTrack license management technology–have been successfully implemented in international projects, representing diverse industries such as banking and finance, automotive, telecommunications, and pharmaceuticals.

Aspera is part of USU Software AG (ISIN DE 000A0BVU28), which is listed in the Prime Standard Segment of the German Stock Exchange (DAX).

Further information can be found in the Internet at www.aspera.com.