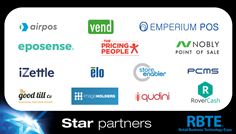 High Wycombe, UK, 26 April 2018 At RBTE 2018 (2 – 3 May, Olympia, London), international POS printer manufacturer Star Micronics announces that it will be demonstrating its latest POS and mobile POS innovations with 12 software partners and 6 hardware partners on Stand F100.

Star recognises that connectivity is key. This is confirmed by the variety of partners on the Star stand that have integrated Star's extensive range of unique and innovative solutions. Providing connectivity at every level, Star reinforces its position as the POS printer manufacturer of choice for so many software providers.

Partner Applications include
Mobile Payment Solutions for Windows and Apple iOS
Omnichannel Solutions for large and small retailers
Mobile and Traditional POS Solutions with unique hardware
Mobile pricing and shelf edge label solution with remote printing
Queue Management
New and Innovative approach to Lottery management
Partners on the stand:
SOFTWARE SOLUTIONS
AirPOS with PayPal
Emperium
iZettle
Nobly POS
PCMS
PMC
Qudini
Rovercash
SSAYY
The Good Till Company
The Pricing People
Vend
HARDWARE SOLUTIONS
ArmorActive (MTi)
Compulocks
Ergonomic Solutions
Imageholders
Socket Mobile
Elo
ArmorActive (MTi) ArmorActive, a division of Mobile Technologies Inc. (MTI), specializes in multi-purpose hardware solutions that allow tablet deployments for business. The company is a world-wide manufacturer of quality equipment that increases the security, accessibility, mobility, and engagement level of tablets for every major business application. For more information please visit: www.armoractive.com
AirPOS with PayPal Providing once again PayPal's Chill & Charge Café POS solution alongside Star, AirPOS is proud to be the simplest-to-use POS and e-commerce software in the market today, helping retailers to manage their sales and inventory, both in their shops and online. Combining cash & contactless card payments, inventory control, sales reporting, e-commerce and compatibility with all major accounting software packages, AirPOS is available on iPad, Android and Windows devices. www.airpointofsale.com
CompuLocks Ever since the company was founded in 1983, CompuLocks has impressed the computer lock security market with its innovative products. The company provides Computer locks, laptop carts, Tablet stands and security locking solutions for Educational institutes, Healthcare organizations, Corporation accounts, Government/State agencies and to distributors all over the world. With a lifetime replacement warranty, Compulocks has reseller and affiliate programs too for those interested. www.compulocks.com
Elo Touch Screen Solutions Elo is a global leader in touchscreen solutions, including mPOS, self-order systems, POS systems and interactive signage displays from 10 to 70 inches. The inventor of the touchscreen, Elo now has 20+ million retail and hospitality installations in 80+ countries. The Elo touchscreen experience has consistently stood for quality, reliability and innovation. www.elotouch.com
Emperium Emperium POS, a global software provider has consistently transformed the way the Retail and Hospitality sector empower their businesses in the technology-driven world of tomorrow. With over 18 years of experience we always take advantage of future tech in order to grow ourselves and our customers. The best is yet to come. www.emperiumpos.com
Ergonomic Solutions Ergonomic Solutions is a global leader in the design, manufacture and supply of the most ergonomically advanced mounting and security solutions for a wide range of static and mobile technology hardware. Creators of SpacePole, Ergonomic Solutions is the global market leader, having supplied over 4.2 million unique SpacePole installations – and in the retail sector we supply over 60% of the world top 250 retailers, making our technology mounting solutions the preferred choice. www.ergonomic.solutions
Imageholders are experts in the design and manufacture of tablet enclosures and kiosk solutions. Our dedicated team are experts in creating device integration OEM solutions, suitable for integrating any device from a contactless NFC reader to an A4 printer. Ideal for any industry, our solutions are eye-catching and highly secure. www.imageholders.com
iZettle Fintech company iZettle is on a mission to help small businesses succeed in a world of giants by providing tools to get paid, sell smarter and grow their business. iZettle's two point-of-sale apps make managing the day-to-day easy and intuitive. iZettle Go is a powerful POS app that turns a smartphone or tablet into a commerce platform by facilitating cash, card, contactless and invoice payments, and lets you sell online with iZettle's all new integrated E-commerce solution. iZettle Pro has been designed specifically for the hospitality industry and is a fully featured iPad EPOS system that integrates seamlessly with the iZettle Reader. www.izettle.com
Nobly POS Nobly POS is the #1 customer-rated EPOS system, focusing on the hospitality sector. Our iPad POS systems help shops, bars and restaurants across the UK and around the world leverage the power of technology to serve customers more effectively and boost their bottom lines. www.noblypos.com
PCMS PCMS is an innovative retail software and services provider delivering engaged commerce:
Sell from Anywhere – Continuous baskets
Surprise and Delight – Customer engagement with personalised incentives
Never Lose a Sale – Put all your channels to work everywhere
Invisible Infrastructure – 'Sleep at night' security
Simplified Management – Seamless integration
Affordable – Write-once deploy-everywhere
PMC Store Enabler allows retailers to implement mobile PoS using their existing retail systems. Store Enabler allows retailers to scan products, take secure cardholder present chip and PIN payments, manage cash and print receipts (to zone, fixed or mobile printers) from mobile devices running both Android and iOS. www.pmcretail.com
RoverCash RoverCash is an innovative cash register software available on iOS and Android tablets. Powered by LUNDI MATIN Group, RoverCash is a cross-channel solution that manages sales and receipts, loyalty programs and CRM, stocks and product catalogue as well as statistics and accounting. www.rovercash.com
Qudini Qudini is a cloud-based customer experience management platform that enables retailers to reduce customer walkouts, increase conversions and optimise efficiencies within the store environment through its array of appointment and event booking, virtual queue, click and collect and request assistance solutions. www.qudini.com
SSAYY As Cloud Software Development specialists, SSAYY provides advanced and practical solutions suitable to all business backgrounds. They are a provider of innovative EPOS software and marketing solutions, enabling small to medium businesses access to the latest technology and marketing tools. Choose from their award-winning EPOS System, ESHOP, Calendar Booking System, Driver Tracking, Clock In/Out System and Mobile Marketing App. www.ssayy.com
Socket Mobile Founded in 1992, Socket Mobile is a leading innovator of data capture and delivery solutions for enhanced productivity in retail point of sale, field service, transportation, manufacturing and other mobile markets. Socket Mobile's revenue is primarily driven by the deployment of third party barcode enabled mobile applications that integrate Socket Mobile's cordless barcode scanners. Socket Mobile has a robust network of thousands of developers registered to use its software developer's kit to add sophisticated barcode scanning to mobile applications. www.socketmobile.com
The Good Till Company Based in London and Luton, the Good Till Company supports retail and hospitality outlets across the UK and further afield by delivering deep level management insights, a brilliant customer experience and helps businesses gain repeat business, including upsell opportunities. Combining tablet computers with cutting-edge Point of Sale (POS) software, cloud technology and modern hardware, the Good Till Co POS system makes no compromises. Built alongside input from real customers, The Good Till Co puts customers at the centre of all activities. www.thegoodtill.com
The Pricing People The Pricing People can help you save time and money on the shop floor by printing price labels faster and more efficiently with a range of mobile terminals and tablets, as well as mobile or static label printers. Use the same hardware to improve other processes like stock count, click & collect and goods receipt. Free up valuable time for your store teams to spend with customers, improving sales and the customer experience. www.thepricingpeople.co.uk
Vend Vend is cloud-based point-of-sale and retail management software that lets retailers run their business in-store, online, and on-the-go. Vend's solution includes ePOS software, inventory management, E-commerce, customer loyalty, and reporting analytics. Vend integrates with other world-leading business and payments applications including Shopify, Deputy, Xero and PayPal, and is a key retail partner in Apple's global Mobility Partner Program. www.vendhq.com
Background Information on Star Micronics
Founded in 1947, Star Micronics is one of the world's largest printer manufacturers and has facilities for worldwide production, marketing and support. Employing over 1900 staff and achieving turnover in excess of £250 million, Star Micronics has developed a POS printer portfolio that spans thermal and dot matrix printers and mechanisms, designed for barcode, ticketing, receipts and labelling. Star's proven technology is also being utilised to develop reader/writer systems for visual/smart and magnetic stripe cards and to install print mechanisms in multimedia kiosk environments. The Star Micronics' range is available internationally via a distribution channel comprising distributors and dealers.
---
For further information, please visit www.Star-EMEA.com or contact:
Annette Tarlton
Marketing Director
Star Micronics EMEA
Tel: +44 (0) 1494 471111
Email: Atarlton@Star-EMEA.com
Claire Smith
PR Manager
Star Micronics EMEA
Tel: +44 (0)1494 471111
Email: Csmith@Star-EMEA.com