High Wycombe, UK, 26 January 2017 Constructed entirely out of 80 refitted shipping containers, Boxpark Croydon offers a range of dining options from quality restaurants to modern street food with flavours from across the globe. Star Micronics has joined forces with leading POS software provider Nobly POS to provide the pop-up outlets at the food mall with mPOS solutions that offer feature-rich software and reliable hardware. The installations include the unique combined Bluetooth printer and cash drawer solution mPOP™ as well as the renowned TSP100 futurePRNT™ series from Star.
Having successfully installed Star printers at Boxpark Shoreditch, Nobly POS was approached to provide mPOS solutions for the 35 food and drink outlets at Boxpark Croydon. Founded in 2013, Nobly POS provides a next generation iPad based easy-to-use point of sale system that allows merchants across more than 40 countries to set up their outlet within minutes without expensive on-boarding and support contracts.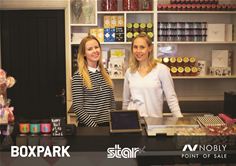 Supplied by DED Limited, the mPOP from Star is ideal for pop-up outlets given that it is low cost, lightweight and space-saving at just 10cm high and 30cm wide. As a result, the unit can be securely stored or transported at the end of trading. With front feed receipting, mPOP can easily be placed under the counter for enhanced space-saving.
Working with all major operating systems including Apple iOS, Android and Windows, mPOP provides users with a versatile Bluetooth solution that is ready to work with compatible POS software and a card payment system. Bluetooth connectivity results in only one mains cable being required for full operation while the mPOP LED display will quickly determine pairing status as well as any issues such as paper out, etc. With 4 USB ports, additional tablet, phone, scanner, etc charging is available from the one cable.
With the POPPack option that includes a high quality black or white tablet stand (alternative colours are available if required) and metal plate, users can successfully create a stylish mPOS station. The POPPack design provides a flexible option with the extra security required within a busy hospitality environment, whilst retaining the mobile element. This provides the ability to securely store or transport the mPOS station at the end of trading.
For operators looking for a standard size cash drawer with a high performance counter-top printer the latest additions to the TSP100 futurePRNT series from Star – TSP143III Wireless LAN (WiFi) and TSP143III Bluetooth offer cable-free high speed Bluetooth and WiFi mPOS printing solutions combined with futurePRNT software.
The TSP100 series also includes the convenience of an internal power supply along with a vertical mount kit in the box and provides compatibility with major operating systems including Android, iOS, Linux, Mac OS and Windows. The TSP143III Wireless LAN provides easy pairing thanks to a simple WPS connection offering straightforward wireless setup while the TSP143III Bluetooth model features an autoconnect function for iOS after power on or an out-of-range situation thus ensuring functionality at all times.
As Sebastiaan Bruinsma, Co-founder, Nobly POS, states: "We are pleased to be working with Star Micronics. Its mPOS solutions are easy to integrate, offer excellent performance and reliability alongside ease of installation. Combined with our next generation iPad based easy-to-use point of sale system, pop-up outlets can benefit from feature-rich and innovative mPOS technology."
As Annette Tarlton, Marketing Director, Star Micronics EMEA, adds: "The wide range of Bluetooth and WiFi printing solutions from Star ideally meet the needs of this unique and innovative pop-up mall concept. Following the successful installation of Star's mPOS solutions with Nobly POS software at Boxpark Shoreditch, these latest installations at Boxpark Croydon demonstrate the proven flexibility and reliability our solutions provide to the retail and hospitality sectors."
About Nobly POS
Founded in 2013, Nobly POS is the #1 rated cloud EPOS system for a modern hospitality operator. The Nobly system is cloud-based which gives merchants the power to change product features in 100 stores at the press of the button. All key data syncs instantly and updates are carried out with ease. Nobly acts as your store's Back Office and can help you run nearly every aspect of your enterprise by handling all the time consuming tasks like inventory management and data analytics quickly and reliably, allowing you to concentrate on the day to day running of your business.
Nobly POS is currently used by hundreds of happy store owners in over 40 countries. Headquartered in London, Nobly also has offices in the United States via a New York City office and has a development centre boasting top engineers in Montevideo, Uruguay.
For more information, visit Nobly Point of Sale
About Star Micronics
Founded in 1947, Star Micronics is one of the world's largest printer manufacturers and has facilities for worldwide production, marketing and support. Employing over 1900 staff and achieving turnover in excess of £250 million, Star Micronics has developed a POS printer portfolio that spans thermal and dot matrix printers and mechanisms, designed for barcode, ticketing, receipts and labelling. Star's proven technology is also being utilised to install print mechanisms in multimedia kiosk environments. The Star Micronics' range is available internationally via a distribution channel comprising distributors and dealers.