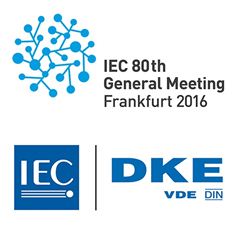 Geneva, Switzerland/ Frankfurt, Germany 2016-10-06 – More than 3,500 experts from over 70 countries are due in Frankfurt am Main from 10 to 14 October, 2016, to discuss and develop the technical foundation for innovation and sustainability. They are participating in the IEC (International Electrotechnical Commission) 80th General Meeting organized by the IEC National Committee of Germany, DKE.
In electrotechnology, harmonized technical rules are more important today than ever before. Electrical and electronic goods represent 17.7% of all goods traded globally. The IEC brings together 98% world population and 96% of world energy generation. Via its global, neutral and independent platform, the work of the IEC enables international cooperation and helps to level the playing field.

Today the IEC brings people within highly competitive industries to the table and they work together to help address global challenges such as climate change, universal energy access, digitalization of manufacturing and cybersecurity threats.

IEC General Secretary and CEO, Frans Vreeswijk says, "The IEC has been connecting communities since its foundation in 1906. Stakeholders from every industrialized and most developed countries actively support the IEC. Germany and other countries that participate in the IEC use IEC International Standards as a strategic tool to grow their exports and stay competitive in the world market."

"Technology and consequently standardization work is entering a new era, as data and digitalization are fundamentally changing how communication occurs and how people work. Systems of increasing complexity require large integrated technology solutions. In addition, the rise of global value chains has fragmented production processes. Products are no longer "made in a country"; they are "made in the world".

About the IEC 80th General Meeting, Frankfurt 2016 #IECGM16
The IEC 80th General Meeting will be opened on Monday, 20 October, 2016 in Frankfurt Festival Hall by Dr Junji Nomura, IEC President and member of the management board at Panasonic Corporation; together with Roland Bent, Chairman of the German Commission for Electrical, Electronic & Information Technologies of DIN and VDE and member of the management board at Phoenix Contact; and Brigitte Zypries, Parliamentary State Secretary responsible for information technology and foreign trade at the Federal Ministry for Economic Affairs and Energy.

On Tuesday 11 October, the world's highest honour in electrotechnology, the Lord Kelvin Award, will be awarded to Uwe Kampet, Senior Expert Technical Regulation and Standardization, from BSH Home Appliances.

The topics for the 80th IEC General Meeting range from Industry 4.0, Renewable Energies, microgrids, cybersecurity, digitilization, wearables and Smart Energy.