Artificial intelligence-based telematics planning solution increases journeys per day by 20% and supports growing adoption of electric fleets
Cambridge, UK, 21 November 2017. Aimed at fleet operators moving to electric vehicles (EVs), Spark EV(http://www.spark-technology.com/) today launched its new artificial intelligence-based journey prediction telematics solution. Spark EV enables vehicles to complete more journeys between charges, removes range anxiety and enables greater fleet utilisation, with up to 20% more journeys completed between charges.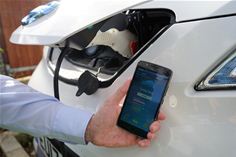 A combination of easy to install sensor technology, cloud-based machine learning analysis software and a powerful smartphone app, Spark EV analyses live driver, vehicle and other data sources, such as the weather and congestion, and then uses its advanced AI software algorithms to increase the accuracy of journey predictions for electric vehicles. Using machine learning, Spark EV automatically updates predictions after each journey, continually improving efficiency.
Drivers and fleet managers simply enter their journey through the app, Spark EV's web interface, or their existing fleet management software, and it advises whether they will be able to complete it, based on live data, previous trips and chargepoint locations. This delivers reassurance to fleet managers and drivers that they will be able to schedule and complete jobs without running out of charge, removing range anxiety while increasing the amount of potential vehicle journeys by an additional 2.8 per day. It even allows managers to add extra journeys or drop-offs to EV routes, based on their remaining capacity.
"Fleet managers understand that the future increasingly revolves around electric vehicles, due to new legislation coming into force around the world, a move away from diesel and rapid growth in EV sales," said Justin Ott, CEO, Spark EV Technology. "However, existing methods of predicting range between charges are not accurate enough for fleet use, leading to range anxiety and a consequent drop in productivity as managers cut back the number of journeys to avoid potentially running out of power."
"Spark EV increases productivity through more accurate predictions that enable 20% more journeys between charges, enabling EVs to deliver greater efficiency for businesses, while meeting tightening emissions legislation," he concluded.
New legislative changes designed to cut vehicle pollution, combined with a growing public acceptance of EVs, are driving fleet operators, especially within the delivery, taxi, government and utility sectors, to increase their use of electric vehicles. For example, all new taxis licensed in London from 1 January 2018 will need to be zero emission, while the Ultra Low Emission Zone (ULEZ) will charge vehicles that do not meet strict environmental standards from 8 April 2019.
Delivered through a monthly subscription model, Spark EV easily integrates with existing fleet management/scheduling systems through its open API, or can be used as a standalone solution for smaller fleets and can be installed with all current EVs. It is already receiving strong interest in Scandinavia, where EV penetration is currently ahead of the UK.
---
About Spark EV Technology
Driven by air quality concerns, global legislation is accelerating the adoption of electric vehicles (EVs). However, fleet operators face multiple challenges with EVs, including range anxiety, ensuring high utilisation rates and optimising productivity.
Built specifically for fleets, Spark EV Technology (http://www.spark-technology.com/) helps operators overcome these issues. An artificial intelligence-powered journey prediction and route planning solution, it uses machine learning to deliver more accurate range predictions, enabling operators to increase journeys by 20%, removing range anxiety and maximising driver and vehicle time.
Developed in Cambridge, UK, Spark EV combines the company's own research with work from the University of Essex. Available now, it is already receiving strong interest across Scandinavia. A regional finalist in the Shell Springboard competition and an alumni member of Accelerate Cambridge, Spark EV Technology has received investment from the Low Carbon Innovation Fund.
For more information:
Chris Measures (PR for Spark EV Technology)
Measures Consulting
chris@measuresconsulting.com
+44 7976 535147