High Wycombe, UK, 23 June 2015 The mobile POS revolution is here. Are you keeping up with the fast paced evolution? Are you a small merchant looking to build your POS system with powerful tools that will enable you to socially engage with customers? Does this all seem too complicated and too expensive?
The balance of power is shifting between the merchant and the consumer with the latter increasingly in control. With the growth of social media, consumers are sharing information, posting comments and, as a result, becoming far more powerful in terms of their influence on the retail sector.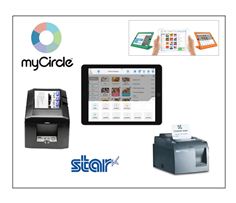 The market is keeping pace with the growing needs of merchants and consumers, and transforming commerce. POS software is now available enabling any business, small or big, to redress this imbalance. Traditionally only affordable to larger retailers, for the first time, small merchants can benefit from the same tools as the larger players.
Designed by a team of people who have worked for major global software companies, myCircle differentiates itself from other players in the market by leveraging this expertise, to make intuitive software that transforms the way you do business, sell to and connect with customers available and affordable to all businesses, regardless of size. Feature rich with a powerful set of myCircle smartTools – one touch apps, smartPOS runs on an iPad making it easy to be in control from wherever you are. And, it grows with you and your business.
myCircle smartTools
SmartPOS – manage your till effortlessly.
myCircle Dashboard – easy-to-use centralised management centre.
SmartReports – one touch entry point to detailed views, charts and reports tailored to your business.
Cash Drawer – directly from your till, the Closing POS Report allows you to manage and track sales and all the transactions processed by shift for your trading period.
Open APIs – third-party applications can be created providing merchants with bespoke in-house add-ons and personalised sector specific business tools.
Pay In/Out – this innovative app allows you to pay and receive payments from vendors and staff on the spot from your smartPOS.
Twitter/Facebook/Foursquare – one touch entry point, connect with your customers directly from your till and offer promotions.
How about offering your customers the opportunity to pre-order and pre-pay and simply come to your shop to collect? Build a CRM database based on your customer's preferences and ensure you have the correct stock to meet their individual needs. Satisfied customers will return and share positive comments on social media which will drive more customers to your shop, and in turn generate increased business.
myCircle's software hub provides a retail consumer engagement platform in the cloud for your business that enables you to communicate with the consumer and create better customer relationships with marketing that is highly targeted, personal and real time. It provides the opportunity for you to communicate effectively with consumers, learn about their preferences and dislikes. Consumers can engage using loyalty or sharing ideas on items they would like you to carry – A valuable consumer and merchant relationship. myCircle's smartPOS helps you to bridge the gap between the items you stock and what the customer wants to purchase. By bringing merchants and customers closer together, businesses can provide a highly tailored service to customers.
myCircle's smartSocial tools enable you to connect with customers on Foursquare, Facebook and Twitter without ever leaving your smartPOS. You can publicise specials, offer discounts and share news. For example, offer your customers the opportunity to check in with Foursquare and get a 10% discount.
Looking for a change of career? Consider the case of George Alves, Owner, Chocolarr, a lorry driver who decided to open a coffee shop in London. Alves decided to install myCircle's smartPOS and has never looked back. In his words: "For the 14 months that myCircle has been in my shop, it's run perfectly. Now that I've used it I wouldn't be without it."
Why not test-drive myCircle today and take advantage of myCircle's free 30 day trial. More information is available on our website: https://www.mycircleinc.com/
myCircle is compatible with a range of printers from Star Micronics. For information on Star's extensive portfolio of mPOS printers, visit www.Star-EMEA.com
As Annette Tarlton, Marketing Director, Star Micronics EMEA, states: "myCircle is an excellent example of the on-going evolution of the tablet as a professional tool. The wide range of powerful tools available to businesses of all sizes further reinforces and promotes the use of the mobile tablet in a retail environment."
Background Information on Star Micronics
Founded in 1947, Star Micronics is one of the world's largest printer manufacturers and has facilities for worldwide production, marketing and support. Employing over 1900 staff and achieving turnover in excess of £250 million, Star Micronics has developed a POS printer portfolio that spans thermal and dot matrix printers and mechanisms, designed for barcode, ticketing, receipts and labelling. Star's proven technology is also being utilised to develop reader/writer systems for visual/smart and magnetic stripe cards and to install print mechanisms in multimedia kiosk environments. The Star Micronics' range is available internationally via a distribution channel comprising distributors and dealers.