20 January 2017 – Maidenhead, U.K. – SDL plc ("SDL"; LSE: SDL), the global innovator in language translation technology, services and content management, provides an update on trading performance for the year ended 31 December 2016 based on unaudited results.
Key highlights:
Continuing Operations revenue and PBTA (profit before taxation, amortisation of intangible assets and one-off costs) are both expected to be slightly ahead of market expectations.
Whilst there has been some foreign exchange tailwind at the top line, because a large proportion of our costs are denominated in foreign currencies, the PBTA margin % is anticipated to be in line with market expectations.
Good progress continues to be made in executing the new strategic plan.
All businesses have performed well, with strengthened recurring and repeat revenues evidenced. The 2016 outcome represents a sound underlying performance, underpinned by SDL's strong customer relationships, delivered during a period of ongoing investment, organisational change and transition.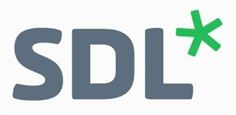 SDL's audited preliminary results for the year ended 31 December 2016 will be announced on Tuesday, 7 March 2017.
Commenting on today's announcement, Adolfo Hernandez, CEO of SDL, said:
"We have made significant progress in 2016; we've built the team, focused the strategy, stabilised the business, made changes to regain Customer intensity and made important choices in relation to future investment.
Our Transformation program is well underway and our new go to market model is acutely focused on key accounts and cross selling opportunities as we endeavour to create a more agile and scalable platform to compete even more effectively as one of the leaders in our industry.
SDL has the right strategy in place and I am excited about the opportunities ahead of us."
For further information, please contact:
SDL plc Tel: 01628 410 127
Adolfo Hernandez, Chief Executive Officer
Dominic Lavelle, Chief Financial Officer
FTI Consulting LLP Tel: 020 3727 1000
Edward Bridges / Emma Appleton
About SDL
SDL (LSE: SDL) is the global innovator in language translation technology, services and content management. For more than 20 years, SDL has transformed business results by enabling nuanced digital experiences with customers across the globe so they can create personalized connections anywhere and on any device. Are you in the know? Find out more at SDL.com and follow us on Twitter, LinkedIn and Facebook.