Iconic German camera brand Rollei has the next generation of epic selfie takers and Kim Kardashian wannabes covered with its new range of Selfie Sticks.
The products have been designed with the individual needs of different consumers in mind with four different types. Each stick boasts different features, from the entry level 4 Fun to the lightweight 4 Style, as well as Bluetooth ready 4 Smile and 4 Life Selfie Sticks. All of the products in the range feature aluminium extendable arms and fully adjustable smartphone holders.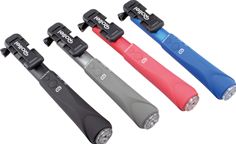 Thomas Güttler, CEO of Rollei, says: "The Rollei Selfie Stick is one of the best performing products in our product range so we wanted to extend this to suit consumers with different needs. At Rollei we are dedicated to producing high quality products to suit all photography needs, and we believe these additions to our range will appeal to both amateur and professional photographers."
The entry level Rollei Selfie Stick 4Fun is a robust and sturdy product that is suitable for first time selfie stick users. The stick is extendable up to 90 cm and offers unique perspectives of photos and videos. It also includes a detachable hand strap for security and stability.
The Rollei Selfie Stick 4Style is extendable to 50 cm but still fits in a handbag or pocket as it can be folded down to only 12 cm. The product includes a Bluetooth remote control for smartphones with IOS 6.0 or Android 4.2.2 and above, as well as a detachable hand strap.
The Rollei Selfie Stick 4Smile is the longest product in the range, expandable to over 104 cm. It has a built-in bluetooth shutter with a 10 meter range, suitable for smartphones running iOS 6.0 and above, as well as many recent Android devices. The device charges fully within 30 minutes and can hold smartphones as large as 8.5 cm.
The Rollei Self Stick 4Life is extendable to 90 cm and closes to just 22 cm. The stick has a Bluetooth shutter built into the handle, which holds up to 100 hours of charge. It is able to hold smartphones up to a height of 7cm that weigh up to 0.5kg.
The products begin from £14.99 for the 4Fun and £29.99 for the 4Life. The 4Style and 4Smile are both £24.99.
For more information about the Rollei Selfie Sticks, please contact the UK sales department on 020 8963 0444.