High Wycombe, UK, 4 May 2017: Star Micronics, leading provider of point of sale hardware and proof of transaction technology, is working with world-leading retail management software provider Vend to bring the digital receipt revolution to its retailers at no extra cost. Vend will be demonstrating this solution on the Star Stand 310 at RBTE 2017 (8 – 9 May, Olympia, London).

Star Cloud Services' suite of digital receipt and customer engagement tools is free to all retailers using Star Micronics' printer peripherals with Vend's sophisticated POS and inventory management software. With the launch of Vend's new integration with AllReceipts™, and the recent release of Star Cloud Services' Micro Receipt™ feature, retailers can now offer their customers an innovative digital receipt solution while saving on paper, reducing the receipt length up to 80% of its original size.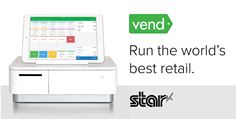 Micro Receipt allows customers to scan a printed QR code into the AllReceipts app or the Itemize digital expense app, giving them instant access to the full receipt on their smartphone. It also allows retailers to increase engagement with their customers and gather useful data – for example sharing a survey where shoppers are asked to rate their retail experience.
Demonstrating Vend's commitment to independent retailers, the company has recently developed an awareness campaign with local retailers in London. Running throughout May, the campaign focuses on the retail growth that can be achieved with Vend, as demonstrated in the video that promotes the retailer Number Six. With the opportunity to win a £20K Retail Growth package, the winner will receive time and support from Vend and Albion Computers as well as an mPOP – combined printer and cash drawer from Star.
Willie Naysmith, Cloud Services Lead at Albion Computers (Apple Premium Reseller for London and South of England) comments: "Vend is leading in terms of integrating Star's digital receipting service. Smaller retailers can now benefit from the same tools that larger retailers so often take for granted. RBTE 2017 will be the ideal platform for Vend to demonstrate this feature-rich, free-of-charge solution to a wide range of retailers."
"We are very excited to welcome Vend to our list of point of sale providers supporting AllReceipts," said David Salisbury, VP of Sales and Marketing for Star Cloud Services. "Vend has become a very popular choice for POS technology among SME retailers. With this new solution, we are offering much more than just a digital receipt service. We are providing tools to help increase customer engagement, and the ability to personalise the customer experience, at no cost to the retailer."
"We built Vend to bring mobility to retailers – our software runs on iPad and we work closely with Apple to help retailers manage their business on the go. With AllReceipts we can now offer an even more mobile solution," says Pierre-Emmanuel Perruchot de La Bussière, General Manager at Vend. "Retail staff will be able to serve customers from the shop floor and provide a digital receipt right to their smartphone, without the need to take down customer details. This will help retailers to speed up the checkout process and provide a superior shopping experience for their customers."
Vend already supports Star Micronics mPOP™, TSP100, TSP100IIIL, TSP100IIIW, FVP10, TSP700II, TSP800II, SM-T400i, SM-T300i, TSP650II, SM-S230i, and SM-S220i printers.
---
About Vend
Vend is cloud-based point-of-sale and retail management software that lets retailers run their business in-store, online, and on-the-go. Vend's software includes inventory management, Ecommerce, customer loyalty, and reporting analytics. Vend integrates with other world-leading business and payments applications including Shopify, Square and PayPal, and is a key retail partner in Apple's global Mobility Partner Program. Vend is trusted by retailers in over 140 countries and is used in more than 20,000 stores worldwide. Founded in 2010, Vend has offices in Auckland, San Francisco, Toronto, London and Melbourne, and has raised more than US$45 million from top-tier investors. For more information, please visit: http://www.vendhq.com/.
About Star Micronics
Founded in 1947, Star Micronics is one of the world's largest printer manufacturers and has facilities for worldwide production, marketing and support. Employing over 1900 staff and achieving turnover in excess of £250 million, Star Micronics has developed a POS printer portfolio that spans thermal and dot matrix printers and mechanisms, designed for barcode, ticketing, receipts and labelling. Star's proven technology is also being utilised to install print mechanisms in multimedia kiosk environments. The Star Micronics' range is available internationally via a distribution channel comprising distributors and dealers.