cnPilot routers are delivering speeds of up to 50Mbps in Drimnin, Oban, showing how fixed wireless access can help bridge the UK's digital divide
London, UK, October 15, 2018 – Wireless networks specialist Rapier Systems and leading global provider of wireless broadband solutions Cambium Networks today announced they have completed the installation of a new wireless broadband infrastructure to connect the entire Drimnin community in Oban, West Scotland.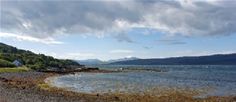 Rapier Systems and Cambium Networks have connected the previously underserved coastal region of Drimnin, Oban, Scotland
Rapier connected around 50 properties in the area, including homes, businesses and holiday lets, via licensed microwave links which its engineering team installed over the course of one month. When selecting a Wi-Fi router, it chose Cambium Networks' indoor cnPilot R201P routers, which deliver high capacity and fast installation, as well as remote access and management.
As a result of the upgrade, the remote, coastal community – which previously only received an average internet speed of 0.5 Mbps – is now enjoying speeds of up to 50Mbps.
"We used cnPilot routers as they allow remote access and monitoring of the client's connected property via an app," said Stuart Wilson, Technical Director at Rapier Systems Ltd. "This means we can fully monitor the network remotely and quickly identify faults if they arise. We can also offer support to our customers quickly and avoid the costly and labor-intensive need for site maintenance visits. The remote access aspect was key to our success, as everything was able to be managed directly from our operational base."
Cambium Networks' dual band cnPilot routers streamline components for a simplified indoor network. They are backed by Cambium Networks' cnMaestro™ cloud manager, offering end-to-end visibility of the network and customer devices.
"Drimnin is the epitome of rural areas in Britain which are underserved by traditional fixed lined access, and this deployment shows how fixed wireless access provides a cost-effective and fast means of high-speed broadband deployment," said Dan McCarthy, Sales Manager, UK and Ireland, at Cambium Networks. "We were delighted to be able to play a role in this project, and it is great to see Drimnin's residents enjoying high-speed connectivity which is enabling them to do things many people now take for granted, such as working from home effectively and streaming content."
Drimnin is one of Scotland's most remote places, located 12 miles away from Lochaline via a single-track road. The community can also be reached by various ferry services.
Cambium Networks will host its annual partner event at Mercedes-Benz World in London on Wednesday, 17 October, starting at 12 pm. The company will provide insight into its latest solutions, including the newly-launched ePMP 3000. If you would like to attend, please register at: Cambium Partner Pitstop 2018.
About Cambium Networks
Cambium Networks is a leading global provider of wireless connectivity solutions that strengthen connections between people, places and things. Specializing in providing an end-to-end wireless fabric of reliable, scalable, secure, cloud-managed platforms that perform under demanding conditions, Cambium Networks empowers service providers and enterprise, industrial and government network operators to build intelligent edge connectivity. Cambium Networks' commitment to continuous innovation in wireless access is demonstrated in the millions of radios deployed in thousands of networks that benefit communities around the world. Team members also contribute to social responsibility activities to serve the communities in which they live. Headquartered outside Chicago and with R&D centers in the U.S., U.K. and India, Cambium Networks sells through a range of trusted global distributors. www.cambiumnetworks.com.