View the full Panasonic and Volkswagen video story here https://youtu.be/g4UR3Y9WoE4
BRACKNELL, UK. 13TH JULY 2017: Volkswagen and Panasonic have collaborated to create a new rugged and versatile Automotive Mobile Test Solution (AMTS).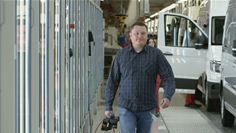 Panasonic works with Volkswagen (1)
"Together with Volkswagen we defined the requirements of a mobile test device," said Gunnar Samsen, Project Manager at Panasonic Computer Products Europe. "It was our goal not only to implement each individual technical requirement, but to optimise the product for other future applications as well and develop a form factor that would enable production employees to do their work as well as possible."
Panasonic worked with its Computer Docking Solutions team in Cardiff, Wales, to develop the solution, which incorporated a unique design to attach the AMTS device to the steering wheels of the vehicles in production.
Christoph Lach, Project Manager, at Volkswagen AG explained: "The AMTS is based on the Panasonic Toughpad FZ-M1 tablet and it meets our production requirements. We use the hardware for commissioning the control units in the vehicle. We have the option of connecting to an external vehicle communication interface, which enables us to communicate with the vehicle, but we can also load the UPS-Client from the vehicle. The steering wheel holder meets all the requirements we had here in the group, which means it's compatible with every steering wheel."
And for staff at the Volkswagen Wrzesnia Bialezyce manufacturing plant in Poland, building the new VW Crafter commercial vehicles, the device has been a hit. Sebastian Janiszewski, Automotion Specialist, said: "The device is much more ergonomic because it's lighter in weight and easier to hold, and the new integrated holder means I can attach it to the steering wheel effortlessly."
"For the duration of the project Volkswagen provided outstanding support for the development and finalisation of the AMTS," concluded Panasonic's Samsen.
---
Press contact:
Michael Bartley
The Amber Group
michael@ambergroup.net
+44 (0)118 949 7750
About Panasonic System Communications Company Europe (PSCEU)
Panasonic System Communications Company Europe's (PSCEU) goal is to improve the working lives of business professionals and help their organisations' efficiency and performance through world leading technology. We help organisations capture, compute and communicate all sorts of information: image, voice, and textual data. With around 350 staff, engineering design expertise, global project management capability and a large European partner network, PSCEU offers unrivalled capability in its markets.
PSCEU is made up of six product categories:
Broadcast & ProAV offers high quality products and solutions to ensure smooth operation and excellent cost-performance to end-users in the areas of remote camera solutions, switchers, studio camera solutions and ENG P2. The VariCam line-up of professional digital video cameras are capable of true 4K and High Dynamic Range (HDR) which makes them the ideal solution for cinema, television, documentary and live event production.
Communication Solutions offer world leading communication solutions including professional scanners, telephony systems and SIP terminal devices.
Computer Product Solutions help mobile workers improve productivity with its range of Toughbook rugged notebooks, Toughpad business tablets and electronic point of sales (EPOS) systems. As European market leaders, Panasonic Toughbook had a 67% revenue share of sales of rugged and durable notebooks and Panasonic Toughpad held a 56% revenue share of sales of rugged business tablets in 2016 (VDC Research, March 2017).
Industrial Medical Vision provides applications for various segments such as medical, life science, ProAV or industrial. The product portfolio includes complete and OEM micro camera solutions. End-users, system integrators or distributors can choose from a range of full product solutions and component vision technology.
Security Solutions, including video surveillance cameras and recorders, video intercom systems and intruder alarms.
Visual System Solutions, including projectors and professional displays. Panasonic offers the widest range of Visual products, and leads the European high brightness projector market with a 37.20% market revenue share (Futuresource >5klm (FY16 April 2015 – March 2016, excl. 4K & digital cinema).
About Panasonic
Panasonic Corporation is a worldwide leader in the development of diverse electronics technologies and solutions for customers in the consumer electronics, housing, automotive, and B2B businesses. Celebrating its 100th anniversary in 2018, the company has expanded globally and now operates 495 subsidiaries and 91 associated companies worldwide, recording consolidated net sales of Euro 61.711 billion for the year ended March 31, 2017. Committed to pursuing new value through innovation across divisional lines, the company uses its technologies to create a better life and a better world for its customers. To learn more about Panasonic: http://www.panasonic.com/global