The flexible design, large 12.5" display and wide range of business ports makes the device ideal for mobile workers
BRACKNELL, UK. 6TH MARCH 2017 – Panasonic today launched its first semi-rugged 2-in-1 detachable notebook designed to offer mobile workers the very best of both worlds with tablet and notebook functionality in a light but durable business device. The 2-in-1 Panasonic Toughpad FZ-Q2 notebook has a large 12.5" display for easy viewing and a wide range of business ports for use with modern and legacy business systems. Alongside its flexible design as a standalone tablet or connected to its own keyboard, the device is suited to the needs of many mobile workers. These include production line managers, fitters and mechanics in manufacturing, field service engineers and telecommunications technicians and customer facing sales staff in retail.

"Many businesses deploying consumer 2-in-1 devices have struggled with reliability and functionality," said Jan Kaempfer, General Manager for Marketing for Panasonic Computer Product Solutions. "This device is purpose built to bring those organisations all the flexibility and ease of use they desire but with the reliability and business-ready design they require to deliver a significant return on their investment."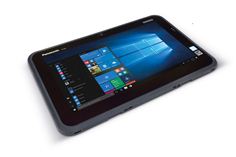 Business-ready design
The display is ideal for workers needing to view technical images or data and forms clearly and for those wanting to show high quality images or presentations to potential customers. The 12.5″ Full HD display (1920 x 1080) is a 10 finger capacitive IPS multi-touch screen. The device also comes with a capacitive pen for annotation. For communication and image capture there is a 2MP Webcam with stereo microphones and 8MP documentation rear camera. For intensive data entry there is a full size, backlit keyboard.
Wide ranging connectivity options
Unlike many consumer devices that are reducing the number of ports, the Panasonic Toughpad FZ-Q2 notebook comes with a wide range of business ports, including USB 3.0, HDMI, LAN and True Serial for connection to a wide range of systems and devices. There is also a 4G LTE option for connectivity when on the move and options for smartcard and contactless smartcard readers for security*.
Built to last
Drawing on Panasonic's 20 year history in designing long-lasting mobile devices for business, the Panasonic Toughpad FZ-Q2 notebook has semi-rugged status for mobile workers requiring a premium product that can withstand light, outside duties. With its magnesium alloy cabinet casing the device is able to withstand drops of up to 76cm and has a spillproof keyboard, yet remains lightweight and slim (max. 1.93 kg and 44mm thick). The tablet without keyboard weighs 1.09kg and is 22mm thick. The fanless device means it is also built to work effectively in dusty environments.
Ease of use
Designed for work on the move, this latest 2-in-1 has a useful carry strap that can also be used for holding the device in one hand. There is a kickstand incorporated into the design to enable the device to stand easily when connected to the keyboard. In addition, an optional 360 degree rotating hand strap** can be added for easy working with the tablet in portrait or landscape positions. An optional, sleek desktop cradle with Kensington lock for security, also allows the device to be easily used as a desktop.
Powered for productivity
Built to handle the most powerful business applications and the ability to work throughout a shift, the Panasonic Toughpad FZ-Q2 notebook has an Intel 6th generation CPU (Intel® Core™ m5-6Y57 vPro™ Processor with 4 MB Smartcache, 1.1 GHz up to 2.8 GHz) with Intel® HD Graphics 515. It comes with a Windows 10 Pro operating system, downgradable to Windows 7 if required, a 128GB Solid State Drive with 256GB as a factory option and 4GB of RAM (8GB factory option, project based).
Pricing and availability
The Panasonic Toughpad FZ-Q2 notebook comes with a standard 3 year warranty and will be available from May 2017 (Windows 7 SKU June 2017), price starting 1.995€ + vat.
* Project driven. Eliminates LAN Serial and HDMI Out
** Optional Accessory