Oxford – 8th August, 2017 Oxehealth, the company using digital video cameras to monitor human activity and vital signs, today announced the appointment of Barney Quinn as its Chairman with immediate effect.
Barney has over 30 years' experience with software and cloud-based companies. For 13 years, Barney was a main board director of Sherwood International plc, a provider of software and services to the insurance industry. He was also CEO of Workplace Systems International plc, an early provider of cloud based workforce management software.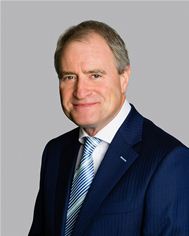 Having served as a Chairman and Non-Executive for a number of years, Barney is today Non-Executive Chairman of AIM listed Clearstar Inc, which provides background screening services and is based in Atlanta; Non-Executive Chairman of UK-based Arkivum, a private provider of long-term data safeguarding services, and a fellow IP Group portfolio company, and Non-Executive Director of Rosslyn Data Technologies , a big data analysis platform which is listed on AIM, and Concirrus, an insurance software business, both headquartered in London. Other interests include Voyage Brand & Communications (creative services) and Parago Software (education software).
Hugh Lloyd-Jukes, CEO at Oxehealth, welcomed Barney: "We're delighted that Barney has chosen to join the team. With our first commercial systems now deploying to mental health and police customers in the UK, we are already experiencing intense demand for our solutions from clinicians, carers and custodians internationally. Barney's extensive experience in scaling software companies globally from the UK, in particular in the USA, will be invaluable in delivering indispensable solutions to our partners in the coming years."
Barney commented on his appointment, saying: "I am looking forward to working with the Oxehealth team during the exciting times ahead as we begin to scale the business with the innovative solutions we provide for patient care."
---
About Oxehealth:
Oxehealth Ltd turns cameras into activity and health monitors. The software can be used to monitor traditional health markers (notably heart rate & breathing rate) totally contact free, through standard digital cameras, with medical grade accuracy. Oxehealth can also monitor human activity and safety indicators.
Oxehealth is the first joint spin-out of the University of Oxford's Institute of Biomedical Engineering and Oxford University Hospitals NHS Trust, Oxehealth was founded by world-leading scientist Professor Lionel Tarassenko in 2012.
Our software is currently being deployed to support clinicians, carers and custodians to provide improved detainee or patient care and risk management in police custody, mental health and home care settings. It also has applications in prison, rehabilitation, step down and long-term nursing settings.
For further press information, please contact Leah Jones, ljones@thecommsco.com 07876117760, or Ilona Hitel, ihitel@thecommsco.com 07734 355205.