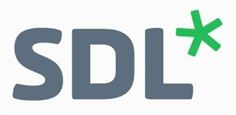 Poor English language skills would discourage consumers from buying online, according to YouGov research
WAKEFIELD, MA and MAIDENHEAD, UK – December 15, 2016 – SDL (LSE: SDL) today announced the results of research conducted by YouGov looking at how British consumers communicate and engage with independent international online retailers[1].

Commissioned by SDL, the research suggests that independent international sellers risk missing out on potentially lucrative Christmas sales with a third (33%) of British consumers, who have previously directly communicated with an international seller, admitting they would be discouraged from buying an item if a retailer had poor English skills when communicating with them.

The research, which surveyed 2,000 British consumers, also highlights the important correlation between language and consumer trust with a fifth (20%) of Brits claiming they wouldn't trust an international seller that used poor English language.

"Trust in a retailer is one of the biggest factors in consumers' decision to buy," explains Thomas Labarthe, EVP Business and Corporate Development at SDL. "From the moment they visit your website consumers demand an outstanding service. And if language causes a lack of clarity or confusion, most consumers will simply click away – often never coming back."

Almost one in ten (9%) consumers who have directly communicated with an international seller have abandoned an online sale altogether because of the retailer's inability to communicate adequately in English – most likely resulting in lost revenue in a highly competitive online market.

"With Christmas and the Festive season around the corner, now is the time for retailers – particularly those with international ambitions – to grow their market share," explains Labarthe. "Around £26 billion was spent online last Christmas, and if retailers want to improve on last year's success they will need to be clear in the way they communicate, and engage, with consumers."

Under a quarter (23%) of those surveyed claim to be regularly impressed by online sellers' language.

Powerful digital experiences – backed by clear and consistent use of language – can make all the difference in a consumer's decision to buy. To help organisations make the most of the Festive sales this year and beyond, SDL offers five top tips for retailers looking to overcome the challenge of selling in international markets (see Notes to Editor).

To find out how you can sell more successfully in international markets, click here http://blog.sdl.com/digital-experience/5-tips-for-selling-in-international-markets to read our blog, or visit our website to learn more about SDL Managed Translation.