OKI Europe reduces cost of black toners in office colour printers and MFPs
Egham, 3rd October 2017 – OKI Europe Ltd is transforming office printing for all businesses with the introduction of cost-effective mono printing on its market leading digital LED colour devices.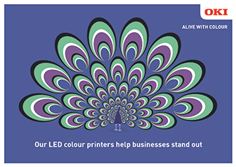 The 
'Big on colour, small on mono costs'
 campaign highlights how businesses using OKI's innovative office colour printers or multifunction printers (MFPs) can print in mono at the same cost as an office mono device bringing them the best of both worlds – access to cost-effective day-to-day mono printing on an advanced device that also produces high impact, professional quality colour materials.
"At OKI we are big on colour and small on mono costs," said Lee Webster, General Manager, Office Print, OKI Europe. "We understand that businesses of all sizes want to print in high quality, on demand, in-house on a wide range of media and at the right price.
"Now we have made it possible for every business to have colour without compromise. With a single High Definition Colour LED printer or MFP, businesses can produce everything cost effectively from black and white documents to business cards, banners, promotional point-of-sale materials and customer documents that are vibrant, sharp and alive with colour."
OKI's office colour portfolio of highly innovative printers and MFPs are packed with functionality and advanced connectivity combined with unrivalled media handling capabilities. Businesses can do more in-house increasing productivity while reducing costs as well as managing their documents across the business with integrated workflows to help accelerate in-house digitisation.
To help businesses further, OKI Europe has matched the mono printing costs of office colour printers and MFPs with the equivalent office mono device by reducing the prices of black toner for the following models.
For further information visit www.oki.com/eu
---
About OKI Europe
OKI Europe Ltd is a division of OKI Data Corporation, a global business-to-business brand dedicated to creating cost effective, professional in-house printers, applications and services which are designed to increase the efficiency of today's and tomorrow's businesses.
The company is well-established as one of Europe's leading printer brands, in terms of value and units shipped. For over 60 years OKI Europe has been delivering advanced printing solutions worldwide, introducing ground-breaking technologies that support the needs of businesses large and small. Our pioneering development of digital LED printing technology has placed OKI at the forefront of the market, delivering high-definition, eco-friendly printing devices that include large-format multifunction printers for fast, high-quality results in reprographics, engineering, architecture, CAD and mapping applications.
OKI's unique strength in large format solutions also extends to inkjet printers that deliver a stunning quality of printing and design on an incredibly broad range of media for the signage and graphics industries.
In addition to a vast portfolio of award-winning printers and MFPs, OKI offers a range of services to help optimise print and document workflows. This, together with an integrated suite of software technologies and tools, can help businesses take control of their print and document costs in a secure environment, whether office based, mobile or in the cloud.
Today OKI Europe employs approximately 600 people in 20 locations (sales offices and production sites) and is represented in 60 countries throughout the EMEA region.
Visit www.oki.com/eu for further information.
OKI Data Corporation is a subsidiary of Tokyo-based Oki Electric Industry Co. Ltd., established in 1881 and Japan's first telecommunications manufacturer.
Media Contacts:
OKI Europe Ltd: Pamela Ghosal: Pamela.Ghosal@okieurope.com, + 44 (0) 208 2192127
Whiteoaks: Rebecca Bushnell: rebeccab@whiteoaks.co.uk +44 (0) 1252 727313