The Pro9000 Series Envelope Print System will bring vibrancy and innovation to this year's event with next-generation short-run envelope printing.
Egham 30th April, 2018 – OKI Europe Ltd announced that it will place a primary focus on the creative potential that can be achieved with its innovative printing technologies at FESPA 2018 (stand 3.1 – A22). Held in Berlin, Germany between the 15th and 18th of May, the FESPA Global Print Expo will see OKI showcase its new Pro9000 Series Envelope Print Systemwhich makes short-run envelope printing both viable and profitable.

OKI's Pro9000E Series provides print houses and print shops with the opportunity to profit from emerging direct marketing trends and lead the way in the printing of high quality mailed products and other printing innovations.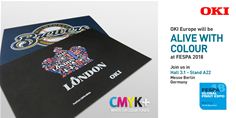 The Pro9000E Series significantly increases the efficiency of envelope printing, enabling variable data envelope printing in short runs, removing the long and costly traditional process of producing printing plates and inking up a press. Vibrant, eye-catching results can be achieved with the brilliant white and striking colour results offered by the Pro9542E which uniquely enables quick and easy printing on dark envelopes in a single pass.
"Direct Marketing Association research has revealed that consumers find direct mail more personal and trustworthy than email marketing alternatives," says Shun Mochizuki, Senior Marketing Manager, Small Format Printers, OKI Europe Ltd. "Businesses may focus their energies on digital marketing efforts, but the research shows that 75% of consumers could recall a brand after receiving direct mail compared only 44% being able to do so after being the recipients of an email campaign. The ease and affordability of email means that 51% of businesses will opt for hybrid campaign that targets consumers through both email and traditional mail. This figure highlights a clear need for short runs of eye-catching envelopes."
"The Pro9000E Series provides print shops and print houses with the opportunity to achieve unrivalled vibrancy that competitors will be unable to match through the ability to print CMKY + white and, in the case of the Pro9542, CMKY over white in one pass."
OKI's Envelope Print System is simple to set up includes an Envelope Fuser to reduce wrinkle and ensure uniform print across a wide range of designs. To help drive productivity, OKI has developed an envelope feeder and conveyer included in the system which prints a broad range of envelope sizes, standard sizes as well as custom sizes (2.5"by 3.5" to 13" by 15") at impressive speeds (up to 500 DL envelopes in under approximately 12 minutes).
To find out more visit www.oki.com/eu or visit OKI at FESPA stand 3.1 – A22 where you can gain hands on experience of the Pro9000 Series Envelope Print System.
---
Notes to Editors:
About OKI Europe
OKI Europe Ltd is a division of OKI Data Corporation, a global business-to-business brand dedicated to creating cost effective, professional in-house printers, applications and services which are designed to increase the efficiency of today's and tomorrow's businesses.
The company is well-established as one of Europe's leading printer brands, in terms of value and units shipped. For over 60 years OKI Europe has been delivering advanced printing solutions worldwide, introducing ground-breaking technologies that support the needs of businesses large and small. Our pioneering development of digital LED printing technology has placed OKI at the forefront of the market in delivering high-definition, eco-friendly printing devices.
Since the acquisition of the globally-deployed wide format printer business of Seiko I Infotech Inc. a subsidiary of Seiko Instruments Inc. OKI distributes precision-engineered wide-format printing systems specifically for the sign, graphics, CAD and GIS markets that provide industry-leading productivity and image quality. With an EMEA wide network of authorised distributors and dealers OKI Europe Ltd provides complete printing solutions including wide format printers, inks, media, software, installation, support, knowledge and training.
In addition to a vast portfolio of award-winning printers and MFPs, OKI offers a range of services to help optimise print and document workflows. This, together with an integrated suite of software technologies and tools, can help businesses take control of their print and document costs in a secure environment, whether office based, mobile or in the cloud.
Today OKI Europe employs over 500 staff in 15 locations (sales offices and production sites) and is represented in 60 countries throughout the EMEA region.
OKI Data Corporation is a subsidiary of Tokyo-based Oki Electric Industry Co. Ltd., established in 1881 and Japan's first telecommunications manufacturer.
Visit www.oki.com/eu for further information.
OKI Europe Ltd: Pamela Ghosal: pr@okieurope.com + 44 (0) 208 2192190
Whiteoaks: Rebecca Bushnell: rebeccab@whiteoaks.co.uk +44 (0) 1252 727313
-End-