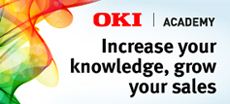 New platform offers product information, training courses and certification for EMEA channel partners
Egham, 29th April 2015 – OKI Europe Ltd has launched the OKI Academy, a new online platform providing channel partners with a go-to hub for OKI sales, product, technology and solutions training.
The interactive, multi-lingual platform is specifically designed to offer OKI's extensive partner network with assistance, support and information. By developing their knowledge and expertise, partners can help provide enhanced guidance when engaging with customers, resulting in added sales and business growth.
"We are fully committed to OKI's strong and established network of EMEA channel partners," said Tetsuya Kuri VP Product Marketing, EMEA. "Pitched at all experience levels, skill sets and areas of focus, the new OKI Academy platform will help our partners to address all kinds of customer challenges and needs with OKI's broad selection of products and solutions."
With access to an evolving range of interactive online training courses on business and industry-specific solutions, registered users can view and complete the training modules at their own pace and convenience. Available on desktop, tablet and smartphone, the OKI Academy iOS and Android app can be accessed remotely and used on the move.
Points are awarded each time a course is completed unlocking access to additional knowledge and resources. When a partner completes an assessment, they will receive a downloadable certificate and can promote their OKI expertise with an 'OKI Academy Trained' badge for their website, or social media profiles.
After successfully completing an online training course, a series of 'how to' sales videos and additional resources are immediately accessible via the OKI Academy app. Developed to support meetings and presentations, these short videos provide a virtual demonstration of specific product features, making it quick and easy to share information with colleagues or customers by email. As new courses are released, app updates will continuously become available via the App Store and Google Play.
"The OKI Academy truly is a user-friendly, knowledge centre for sales, product, technology and solutions training," added Kuri "By delving in, channel partners have a great opportunity to develop their OKI product knowledge and sales expertise and we are confident this will help them to drive more sales and generate a better bottom line."