Anthony Clarkson discusses the need for service providers to re-think their existing models
Valencia, 13 February 2018: Anthony Clarkson, Technologist at optical transceiver specialist ProLabs, today addressed how a technology evolution path to NGPON2 would enable a faster deployment for new technologies in the future.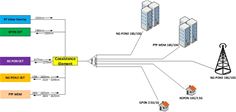 At FTTH Conference in Valencia, he recommended that in order to successfully rollout NGPON2 – the latest telecommunications network standard for passive optical networks – service providers should implement an upgrade path of GPON – XGPON/XGS-PON – NGPON2.
"As we become a world that will be driven by 5G wireless, mobile backhaul and insatiable business, NGPON2 is a destination that must evolve over time for an effective and positive rollout. By coexisting with previous architectures such as GPON, the deployment of new optical networks will be much easier," addresses Clarkson.
A hot topic at the event, he highlighted that by using the co-existence model, you can rollout current technologies now, as well as allowing newer technologies to be integrated faster as they become available to the market.
"With thoughtful planning and the re-thinking of existing paradigms, service providers can ease into NGPON2 while still utilising existing FTTH infrastructure," he continued.
ProLabs new range builds upon its understanding of the challenges service providers face in integrating new technologies over existing fibre infrastructure, and FTTH will see ProLabs showcase its range of next-generation PON transceivers and passive coexistence elements which offer new choices for connectivity to service providers.
"FTTH Conference 2018 is the biggest FTTH show in the world for us, and we are showcasing our wide range of products and solutions which hold the prime aim of helping service providers with their fibre to the home roll out, including access core and IP networks. Our PON technology will help to ensure service providers implement a smooth rollout of NGPON2," added Anthony.
At Booth B04 at FTTH, ProLabs is showcasing its complete connectivity solutions portfolio, including NGPON2 and other PON products.
To arrange a briefing with Anthony Clarkson or another ProLabs representative, please contact Rebecca.Peel@proactive-pr.com.
---
About ProLabs
ProLabs is a leading provider of optical network infrastructure. By delivering higher standards for products, service, technology and cost, the company is changing the mindset of data centre and networking customers.
One of ProLabs' biggest strengths is that it supplies highly compatible products, with solutions that are 100 per cent compatible with more than 55 vendors and 20,000 systems. In addition, the innovative and cutting-edge technology comes with a lifetime warranty, demonstrating both the quality of the products as well as the company's service.
By constantly investing in research and development, ProLabs ensures its optical network products remain at the forefront of the market, while the company's extensive supplier network means it has an unparalleled global reach.
Media Contact
Rebecca Peel
Senior Account Executive
Proactive International PR Ltd
Rebecca.Peel@proactive-pr.com