Siegen, May 21, 2015 For the last 20 years, technology developed by INVERS, a world market leader based in Netphen near Siegen (Germany), has made it possible to turn a conventional vehicle into a smart car-sharing automobile. The company is now announcing an expansion to the product line with the addition of the INVERS CloudBoxx.
Starting in May 2015, the new solution will enable car-sharing operators to offer car-sharing based solely on smart phones and regardless of the vehicle's manufacturer. The product was optimized for the seamless integration of customer smart phones in the car-sharing process. In this way, INVERS is following the "bring your own device" trend, and will ultimately make chip cards or user terminals in the vehicle unnecessary.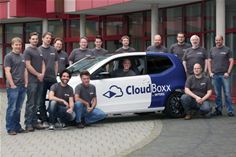 The development of the CloudBoxx is based on the wealth of experience INVERS has gained over the years in equipping 45,000 vehicles to date worldwide. All hardware and software components are developed by INVERS, certified according to automotive standards, and produced in Germany.
The INVERS CloudBoxx platform includes both the in-car technology as well as a cloud API and optimized communication solutions for the efficient interaction between the smartphone, vehicle, and the INVERS Cloud.
An always-on architecture allows for live communication between the components using minimal power consumption. Simultaneous GSM and Bluetooth utilization as communication channels lets users be independent of the vehicle's location, and they can begin and end their drive without mobile phone reception. With that, INVERS has solved a currently widespread problem affecting car-sharing, while at the same time simplifying the use of underground garages.
A simple cloud API for the straightforward connection of the company's own applications, such as leasing software, websites, and apps, is already available for use. For developers working on their own applications, there is already a special development kit for testing purposes. The flexible and appealing pricing models let customers choose a model that best fits their respective needs.
Multiple pilot projects with car-sharing and corporate car-sharing operators are already ongoing. INVERS CEO Alexander Kirn says, "The high level of interest in the market shows that the time for a reliable and purely smartphone-based solution has come. The scope of the projects extends from startups to automobile manufacturers, who can also license individual components. In the pilot projects carried out to date, we were especially impressed by how quickly our customers were able to develop innovative mobility solutions on the CloudBoxx platform – something they can now do in days instead of weeks. We're excited to see what kind of creative ideas our customers can continue to generate using the CloudBoxx platform."
To learn more about this product, please go to www.cloudboxx.invers.com.